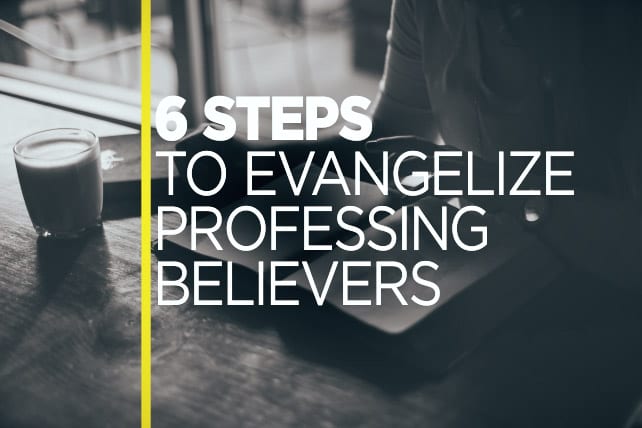 Evangelism is rarely easy. We need to strike a balance between sharing our faith without undue offense and being one who stands up to be counted (2 Timothy 4:1–4). Yet as uncomfortable as encounters with unbelievers may be, they don't hold a candle to having to evangelize someone who already claims to be a Christian.
For some, this will, no doubt, come across as the worst of Christian offenses. "How can you judge someone else's faith?" they may ask. And our answer is simple: because the Bible says we should (Matt 7.15–20″>Matthew 7:15–20).
What, then, are we to do when our lives regularly intersect with those who claim to be for Christ and yet whose lives plainly don't bear the fruit?
1. Examine yourself first.
We cannot divorce verses 15-20 of Matthew 7 from verses 1-5, which teach that we should be quick to get the log out of our own eye before turning to note the speck in our neighbor's (Matt 7.1–5″>Matthew 7:1–5). If we see a lack of Christlikeness in someone else, let it first be a reminder of what may be missing in our own lives.
The charges in Scripture to put to death our sin (Colossians 3:5–9; Galatians 5:19–21) are meant to be applied to our lives first, and then to our neighbor. Let us be even more busy killing the sin in our lives than we are pointing it out in others.
2. Check your motivation.
We should keep a careful eye on our motivation for making such a judgment. All too often, my desire to point out some else's lack of Christlikeness is really a thinly veiled attempt at control. I want them to love Jesus when their loving Jesus helps my life to be more convenient, more valuable or more comfortable.
We often demand that those whose faith we question be more like Christ than we ourselves are willing to be. Therefore, we must ask ourselves: Is this for God's sake or my own?