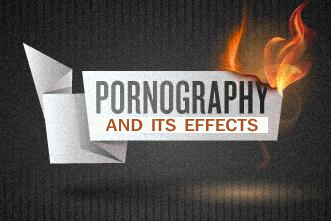 Porn is a problem. It's a personal problem for many and a cultural problem for all. You may think you have not been affected by porn, but you have because it's embedded in the surrounding culture. The staggering size of the pornography industry, its influence upon the media, and the acceleration of technology, paired with the accessibility, anonymity, and affordability of porn all contribute to its increasing impact upon the culture.
Pornography affects you whether you've ever viewed it or not, and it is helpful to understand some of its negative effects, whether you are a man or woman struggling with watching it or simply a mom or dad with a son or daughter or a church leader. There is a plethora of research on the detrimental effects of pornography (and I do not think that what follows are necessarily the worst of them), but here are seven negative effects of porn upon men and women:
1. Porn Contributes to Social and Psychological Problems Within Men
Anti-pornography activist, Gail Dines, notes that young men who become addicted to porn "neglect their schoolwork, spend huge amounts of money they don't have, become isolated from others, and often suffer depression." (Pornland, 93). Dr. William Struthers, who has a PhD in biopsychology from the University of Illinois at Chicago, confirms some of these and adds more, finding that men who use porn become controlling, highly introverted, depressed, dissociative, distractible, narcissistic, curious, and have high anxiety and low self-esteem (Wired for Intimacy, 64-65). Ironically, while viewing porn creates momentary intensely pleasurable experiences, it ends up leading to several negative lingering psychological experiences.
2. Porn Rewires the Male Brain
Struthers elaborates,
As men fall deeper into the mental habit of fixating on [pornographic images], the exposure to them creates neural pathways. Like a path is created in the woods with each successive hiker, so do the neural paths set the course for the next time an erotic image is viewed. Over time, these neural paths become wider as they are repeatedly traveled with each exposure to pornography. They become the automatic pathway through which interactions with women are routed….They have unknowingly created a neurological circuit that imprisons their ability to see women rightly as created in God's image (Wired for Intimacy, 85).
In a similar vein regarding porn's effect upon the brain, Naomi Wolf writes in her article, "The Porn Myth,"
After all, pornography works in the most basic of ways on the brain: It is Pavlovian. An orgasm is one of the biggest reinforcers imaginable. If you associate orgasm with your wife, a kiss, a scent, a body, that is what, over time, will turn you on; if you open your focus to an endless stream of ever-more-transgressive images of cybersex slaves, that is what it will take to turn you on. The ubiquity of sexual images does not free eros but dilutes it.
3. Porn Turns Sex into Masturbation
Sex becomes self-serving. It becomes about your pleasure and not the self-giving, mutually reciprocating intimacy that it was designed for.