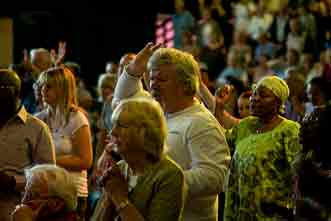 In retrospect, prayer meetings are romantic. After all, what seems to be common to every revival and season of gospel renewal? People praying. God moves a few people to begin praying and then he powerfully answers them.
Consider Charles Spurgeon, arguably one of the most influential preachers in church history, when asked about the secret to his success, he reportedly said, "My people pray for me."
God uses prayers. God uses prayer meetings.
If they are romantic in retrospection then prayer meetings are also intimidating in planning and seemingly complicated in execution.
Several months ago, I wrote a post arguing why prayer meetings were important and why pastors should lead their churches by insisting on regular meetings of prayer (Why You Should Attend a Prayer Meeting). I received a lot of feedback, none negative, but most discouraged. People universally agree on the need for the meetings, but get discouraged by the tone or the direction of the time.
In this post, I want to highlight a few areas that I believe are important to helping get a meeting off the ground. These are items that grew organically out of our own context as we wrestled together with what we are trying to build.
I sat down with another one of our pastors and we analyzed why our meeting was not being well attended and thriving.
We had to ask and answer some hard questions. A lot of it came back to us as leaders. In the last year, we have seen our group steadily increase and become a vibrant band of men who regularly sacrifice time to meet early in the morning for the purpose of frontline prayer. It is awesome. God is using it greatly!
Here are some important considerations for a prayer meeting:
1. Pray.
That's right pastor, pray yourself and then pray that people would come. You can't expect guys to be committed to something that you aren't committed to. Also, you may not have something because you are not asking for it (James 4.2″ data-version="esv">James 4.2).
2. Plan.
Take some time before the meeting to think about what you are going to say to encourage the men who come. Don't just attend the meeting, but lead it; plan to make it a prayer meeting.