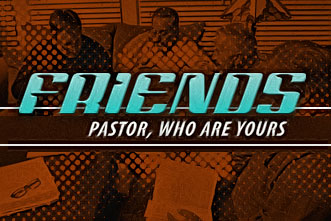 One of the most difficult parts of being a pastor, or working in church ministry, isn't talked about much—and that is the difficulty of making close friends.
One of the unique things about being in full-time church ministry is that your work life, your social life and your spiritual life overlap almost completely. In some ways, this can be an asset to you. In other ways, it can be difficult. Should the boundaries in your relationships look more like friendships or more like working relationships? Should you share things that are personal? Who is a spiritual guide for you?
Who can you confide in when you're struggling with sin?
What I'm not saying is that you aren't friends with people at your church, or that you can't be in a position of leadership and still be authentic.
What I am saying is that, as a leader in your church, it isn't always easy to know what kind of boundaries to have in each different relationship.
Here are some basic guidelines I would give to pastors asking this question.
1. Look for safe, healthy people.
Hopefully, your church is full of them, but if not, you might have to look outside of your church. Healthy, safe people listen to you. They won't manipulate you, pressure you or shame you. Healthy, safe people are brimming with the fruits of the spirit—love, joy, peace, patience, goodness, kindness, gentleness and self-control.
Become friends with these people. As they move toward Jesus, you'll move toward Jesus as well.
2. Allow trust to grow over time.
Especially if you're a young pastor, or a new pastor, or you've moved to a new team—don't expect trust to grow overnight. Give it time. As you spend time with those around you, and they spend time with you, you'll each begin to get a picture of how trustworthy everyone is.
Here is a hint: Chances are, if someone is talking to you about another staff member or pastor, they'll be talking to another staff member or pastor about you as well. You can love this person, but be very cautious about sharing anything sensitive with them.