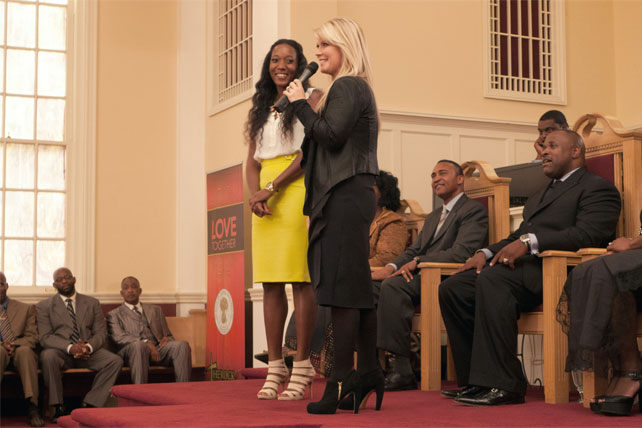 GSN has launched TV's first faith-oriented dating show, featuring church members playing matchmaker for one of their own. The show, It Takes a Church, is hosted by Grammy-nominated vocalist Natalie Grant, and each episode is filmed in a different church in a different state. Congregants of that church give their opinions while one of their members choose from a group of potential suitors using family-friendly experiences and icebreaker questions.
It Takes a Church producer Tom Rogan, co-founder of Authentic Entertainment (Toddlers & Tiaras, Here Comes Honey Boo Boo) told The TV Page that producers are much more willing to consider religion-based programming these days.
"Any time you are trying to program a show, you want to go for the broadest audience possible, Rogan explained. "And with something focused primarily on religion, there is the great potential to narrow your audience. I think there had been an underestimation about the amount of people who would embrace that particular segment of programming."
"One of the things that made this show special is that the primary focus for the dating is more than just looks or a superficial connection" he continued. "It was talking about something that was much deeper. … There is something more meaningful here and it felt refreshing."
The Hallway of Faith blog wrote of the show, "We all have churches where you know of a single in there that your heart just goes out to wanting them to find happiness in their life. This show is a fun way to do so. You have a congregation full of people that have your best interests at heart and are going to make sure to pick out someone who is right for you."
The show's finale will air on GSN Thursday night, July 31 at 9:00 PM Eastern/Pacific and 8:00 Central.