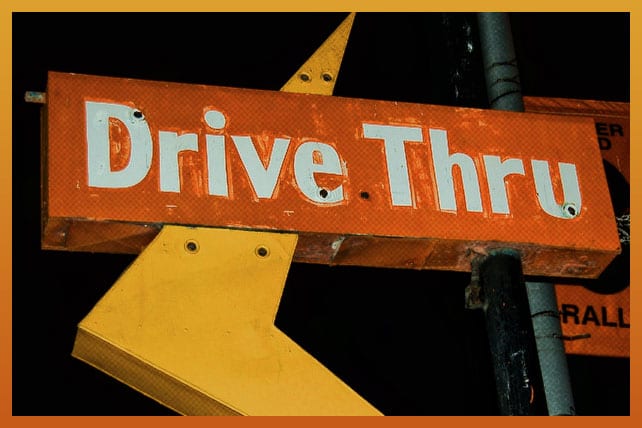 Churches and drive-thru fast food restaurants seem to have little to no comparative value, until you look at the common denominator of both: the customer (people). Of course, I'm not saying the local church is selling anything to people, but I am provoking a perspective that says the people who are customers of a fast-food chain are the same people who are attending our churches.
Lesson #1—Minimum information, maximum call-to-action
Unless you order a meal or item as-is from any fast-food drive up, there's a high likelihood that your order will be incorrect. Likewise, unless you create a valuable call-to-action that is framed around the default expectations of your members and attendees, there's a high likelihood that people won't get involved.
My personal experience has taught me that if I want a burger with only a couple of things on it, it's easier to say "plain, but add lettuce and pickles," than to tell them what I do not want on my burger. The reason is simple: There's a button for "plain" and a button for "add." This is much easier on the fast-food employee than making them put in the regular order, then start subtracting what I don't want, and then finally adding something I do want. Frankly, it confuses them.
Similarly, there's great simplicity in the truth that "less is more." Rather than giving all the details at once about a service, activity or event, and then listing all of the unique qualifiers and exceptions, it's much more effective to summate the big idea with a simple qualifier statement and an easy to respond/act/sign-up immediately option. And, while you're at it, it's best to limit opportunities presented to just one. Don't spam the people with irrelevant information, but instead respect their time and bandwidth with specific, valuable, actionable information that leads to an opportunity for relational connectedness with your ministry team.
Lesson #2—Less is more
Know thy audience. I've never understood why KFC, Long John Silvers and Taco Bell would ever co-exist in a single location. Look, I get it that Yum! (the parent company) sees an opportunity to meet a family's unique tastes from a single drive-thru window, but I cannot and would not ever consider going inside to eat; the olfactory assault of non-complimentary food lingering in the air would instantly kill my appetite. Perhaps this strategy will work in a drive-thru line (though I doubt it would be fast—see Lesson #3 below), but it does not work when churches try to pack everything into a single communication distribution channel.