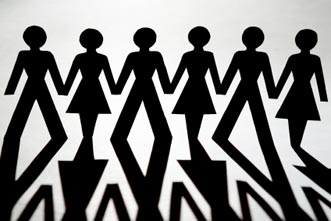 We don't have to travel far to discover a mission field today. We're aware that while our current methods have attracted some people, many in our local communities remain untouched. They're our neighbors across the street, the parents at the school gate, people living in our suburban communities and urban centers. All around, us we find diversity — culturally, ethnically, socioeconomically. Our communities and networks remind us of a call to missional leadership that requires hard work, humility, sacrifice, and innovation. And it's a call to both men and women.
And we're more than aware of the complex history surrounding the role of women in the church. Florence Nightingale, a 19th century Englishwoman today considered the pioneer of modern nursing, sensed a call from God to enter nursing from a young age. Yet the church was a difficult place for her to be connected to. She said of the Church of England:
"I would have given her my head, my heart, my hand. She would not have them. She did not know what to do with them. She told me to go back and do crochet in my mother's drawing room; or, if I were tired of that, to marry to look well at the head of my husband's table. You may go to the Sunday school, if you like it, she said. But she gave me no training even for that. She gave me neither work to do for her, nor education for it."
The New Testament church, however, paints a different picture in response to female leadership. Lydia, Phoebe, Junia, Priscilla, Chloe were just some examples of pioneering missional leaders, key influencers who worked alongside Paul and other male leaders. These women were on the forefront of missional leadership, developing leaders, overseeing faith communities, pioneering new frontiers. Yet I wonder how we'd receive their heads, hearts, and minds today. I wonder if we'd know what to do with their gifts and skills. Would we acknowledge and encourage a Priscilla, more prominent than her husband, discipling apostolic leaders like Apollos? Or recognize the existence of an apostolic leader like Junia? Would we value the contribution of a mom and grandma like Eunice and Lois in Timothy's life and conclude that the home is a definitive sphere of influence in today's culture? Would we see the potential in a businesswoman like Lydia and her peers to be a gateway for mission to an entire continent?
When we think of these women (and many others throughout church history), we're reminded that there are many women in our churches and ministries today who are devoted to Christ, gifted, and called to leadership. As our mission stretches out before us, we also need to stretch ourselves to think about how we can best equip and empower today's female missional leader to be effective in today's eclectic world.
There's a definite place for the public affirmation and encouragement of female leaders. Encouragement gives the leader courage for the days ahead. Visible female role models are significant, too; we can't underestimate the power of what we see to motivate us in a similar direction. But I believe our responsibility doesn't stop there. If we're going to empower female leaders, then ongoing discipleship and mentoring is essential.
The definitive discipling experience in my life came through a "huddle." The huddle is a vehicle for intentional leadership training developed by my senior pastor at the time, Mike Breen. He gathered eight members of his staff team (men and women) to meet together weekly. We used a list of questions covering topics such as our walk with God, character, family, and mission to help us process life as leaders. Mike invested insights from 30 years of ministry, life lessons, theological reflections, time…but everyone contributed to the huddle. For three years, we shared our journeys, spoke into each other lives, encouraged each other, and challenged each other. In time, we led huddles of our own, investing in another generation of potential leaders who in time would do the same…
Alongside the huddle, I was given opportunities to grow in leadership. We know that the textbooks and conversations can only take us so far. A missional life: living it, breathing it, now that's an education! So whether I felt ready or not, I was given the chance to speak, build teams, develop strategy, and plant missional communities. And I was mentored through it all. It was exhilarating; it was stretching and humbling. It was empowering.
We don't have to travel very far to discover a mission field today. Our culture needs missional leaders, who will pioneer new initiatives. What would we see if both the men and the women in your community were empowered to be all God had created them to be?