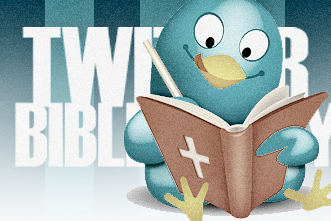 Recently, several people have asked how to do a Twitter Bible Study and where did the inspiration to do one come from, so here's the back story:
It actually started as an accountability issue for me. My goal this year was to read through the Bible chronologically. To keep me going, I decided to post one lesson that I was learning each day on Twitter. People began re-tweeting them and commenting on the helpfulness of the 140 character lesson each day so after about a month I decided to make it an interactive Bible study.
Here's how it works (I do it all from my iPad):
It starts with a daily reading from YouVersion.
I track along with the Chronological Through the Bible in a year program on the free YouVersion Bible app on the iPad. When I hit a Scripture that sparks a potential lesson, I highlight it and bookmark it to work on after I finish all of the morning reading.
Next, I enter the lesson as a topic of conversation on Facebook.
I use a Facebook Page rather than profile because you don't have to "friend me" to see it (you can see mine HERE). If you want to add comments, you need to "like" the Page. Generally, there is one commenter for every 10 people who view the Bible Study. Entering the lesson is really a 3-step process:
1. I enter the chapters from YouVersion that we are reading for that day as a topic in the "conversation" tab of the Facebook Page. I actually do that about a month ahead of time, so the daily process is actually just me searching for the topic I've already previously labeled.
2. My first post under the topic is actually the ground rules for the Bible Study and is also done a month ahead of time. It's just a copy and paste boilerplate that I created early in the year. You can read it in the picture above.
3. The daily post is my lesson from the reading. I try to stay mostly same day to keep the freshness for me.
Finally, I post an invitation on HootSuite.
HootSuite is a Twitter app that allows me to post my lesson to several different social media outlets simultaneously. The process of posting it is actually two steps:
1. First, I copy and paste the Facebook discussion topic URL to HootSuite along with an invitation to join today's study. This can actually be done in advance and scheduled to occur at a specific time each day.
2. Next, I copy and paste the lesson that I've posted to the Facebook discussion topic. I try to keep it to about 125 characters so it can be easily re-tweeted. I try to schedule this to post about 20 minutes after the original invitation goes out.
That's about it. It takes me about 20 minutes start to finish every morning. I usually check back periodically throughout the day to see what other people are learning, and I usually pick up some fresh insight into that days reading. It's fun to see people interacting.
What about you? Anybody else doing a "Twitter" Bible study? How's it working?