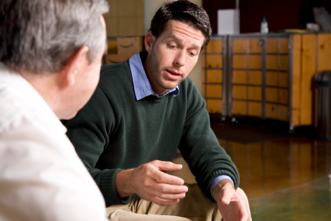 I got a call from a Small Group leader that was urgent.  She wanted to talk about the current reality of her Small Group and how she was responding to the pressure.  She got drunk last Friday night.
Do your Small Group leaders get drunk on Friday nights?  If they did, would they tell you about it?
People Get Drunk
People get drunk for various reasons.  The party life, the numbing life, the stress relieving life or the addicted life.  Any of these can be a trigger for bottoms up.
As one of Gateway's Small Group pastors I get calls from Small Group leaders.  This was the first time one of them called me because they got drunk.  On the surface she, I'll call her Ruby, got drunk because one of the women in her Small Group was driving her, and the group, crazy.  For Ruby it was literally emotionally overwhelming to continue dealing with a woman in her group struggling with borderline personality disorder.  The emotional outbursts and irrationality were like grenades going off in the group each week.
One of the other women in the group has a mother with borderline personality disorder and this was not helping the situation.  She was constantly trying to "fix" her fellow group member.  When she wasn't trying to fix her she was trying to kick her out of the group to get "help."
Ughh … what's a group leader to do?
Under the Surface
Underneath these relational circumstances in her group Ruby has a past history of drug abuse, an alcoholic mother, and patterns of emotional frailty as a stay at home mom with three young children.  It's these deeper roots combined with the current circumstances that led to her Friday night freak out.
Before I go on you need to know more about Ruby. She started following Christ after being an atheist. Religion had no place in her family growing up.  As a young adult, college student and at the beginning of her marriage she found satisfaction in a party life.  When the housing bubble burst Ruby and her husband foreclosed on their house in Arizona and moved to Austin. They were looking to start a new life together with their young family.
After arriving in Austin Ruby's husband was invited to play on a softball team by a guy at work.  It happened to be a group of guys from Gateway that played on the team.  Eventually he saw this as an opportunity to try church again.  He was the first in the family to start following Christ.  Ruby didn't get it, yet.