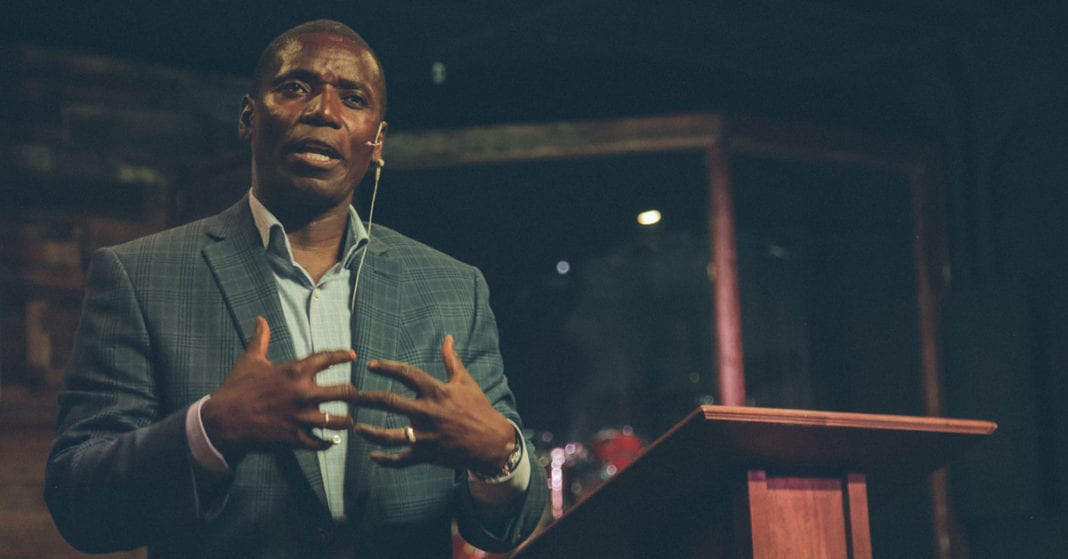 Stories are some of the most powerful tools in a church communicator's belt. They have the power to engage us in something beyond ourselves and pass life-giving faith from one generation to another.
In the Church, we don't tell stories to entertain or to boost numbers. We tell stories to share the Gospel. This post is an excerpt from Katy Munson's new ebook, Storytelling to Share the Gospel & Engage Your Church's Community, in which she teaches how to use storytelling to tell people what's going on with your congregation and, ultimately, to point them to Jesus.
The Story of Our Salvation
The stories a family tells forge their identity as a unit, shaping their mindset and interactions. As the family of God, our identity takes root in Jesus, so we tell stories that point to Him. Some use the term "Heilsgeschichte," which means "salvation history," when talking about this focus of God's Word. Stories contained in Scripture, though recorded thousands of years ago, show us that there's nothing new under the sun, and that includes God's faithfulness and forgiveness.
Story is ingrained in our lives as Christians. At the 2013 Theological Symposium at Concordia Seminary in St. Louis, Dr. David Schmitt discussed the topic of telling God's story. Dr. Schmitt proposed the idea that faith is a story-shaped experience, an experience that takes place in community, as the body of Christ, as we are brought into God's master story.
Perhaps the most obvious expression of storytelling in the Church is through Scripture. We see it throughout the Old and New Testaments in books of history and poetry, in the Gospels, and in the Epistles. Jesus famously makes use of parables throughout his ministry and teaching. He is continuously turning our earthly way of thinking on its head through the use of these narratives.
We also see story in our traditions. Historically, the Church has confessed the Christian faith through narrative in the words of the Apostles' Creed, telling the story of creation by the Father, redemption and rescue through Jesus, and the Holy Spirit's work that produces faith and brings us into the story and sends us out into the world with that same life-giving story.
Keeping God at the Center of the Stories We Tell
As church communicators, we have the opportunity to tell God's master story and to tell how God is working in and through the people in our communities. An understanding of vocation is very helpful here. Believing that God cares for His people through other people opens our eyes to innumerable stories.
As we use stories in church communications (through social media, blogs, videos, websites, and more), it's vital that our narratives continually point back to Jesus—His life, death, and resurrection and His care for people. Being the sinful humans that we are, this isn't always the easiest task. We can be tempted to talk about ourselves, our power, our strength, and our determination. In doing so, we veer off track and lose sight of the precious hope we're called to share.
In striving to keep stories Christ-focused, we can use a few questions to keep us on track:
Is God the subject or main theme?
Where is Christ at work?
How does God change things?
In their book Myth of the Millennial, Ted and Chelsey Doering encourage us to be authentic in our storytelling, reminding readers that many have "a keen sense of sniffing out anything fake" (pg. 212). In doing so, the authors emphasize that the ultimate goal of storytelling (or any) efforts is to "connect people with the story of Jesus" (pg. 212).
Finding Stories in Your Local Congregation
Most of the time, you don't have to look far to find good stories to tell: the messy, the ordinary, and the joyful. As we write, film, edit, discuss, and post, we look for connections that point to Jesus and His Word, for He is the very one who animates our lives and stories. He works in and through these messy, ordinary, and joyful situations, and the unchanging truth of His Word will always inform our hope.
Not sure how to get started or dig deeper to find stories in your church? View the ebook to get ideas for mining stories from a community or context!
The original article appeared here.