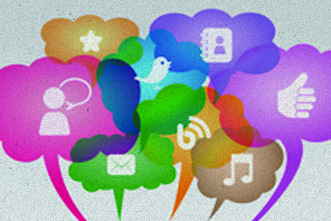 Social media continues to rocket upwards in usage worldwide, and yet there are still some who view social media with a wary eye. I think the reticence is due to some people using social media badly. No, that's not quite right. There are those who don't like how others use social media, so they define social media as the problem.
There's no question there are masses of people and organizations using social media in self-serving, even narcissistic ways. But that doesn't make social media the culprit; people behaving badly is not new to society.
And yet social media is not neutral. It doesn't simply "exist"; it is very much like the water of the oceans, moving based on currents (current events), tides (when people use it) and storms (trending topics). The forces are real, not neutral, and the power is immense.
Perhaps the easiest way to visualize the power (neither good nor bad) of social media is to look at the classic rock band amplifier (see picture). Each amplifier represents one person reaching those within their sphere of influence. As some of those people join in the chorus, their amplification spreads to their sphere of influence, exponentially covering a much larger group of people. From time to time, and with the right current of topics, certain social media elements gain huge audiences and a few even go "viral," spreading across the social media ether like a wall of sound.
What gets amplified is going to sound pleasing to some and horribly irritating to others, just as differing music tastes respond differently to a rock amplifier. It's not the amplifier, it's the content (music) to the ears of the listener.
So how do you use social media when someone will certainly not like or care about what you have to say? Get over it and share what you believe, what inspires you and what you're getting involved with so others who share your viewpoint will join your chorus. That is the power of social media when used to reach your own sphere of influence.
How have you found social media to be helpful in expanding your reach and influence? Leave a comment below or send me your response to my Twitter account.