One of a worship leader's most fundamental jobs is picking the right songs for Sunday. Not only that, but putting the songs in the right order. Sometimes you can just feel which songs you should do. But this usually comes with years of leading. So how do you pick a great worship set list whether you're a seasoned worship leader or just starting out?
Here are some practical tips.
TIP #1: START WITH ONE SONG
Often there will be one song that I really feel is right for the upcoming Sunday. Maybe it matches the sermon theme. Maybe God gave you an impression during a prayer or personal worship time.
When this happens, it's a nice headstart on your list. You can build the rest of the set around this song.
For instance, you feel that Hillsong United's "The Stand" is THE song for this Sunday. You could put it in the middle to end of the slower part of the set. You come off some fast songs into maybe one slower one, do "The Stand," then end on a mid tempo song.
Sample worship set list based on a song
"Running" – Hillsong United
"Word of God Speak" – Mercy Me
Featured song –>"The Stand" – Hillsong United
TIP #2: BUILD THE WORSHIP SET AROUND A THEME
Our church plans sermon topics out at least a few weeks. This helps worship leaders because we can log into a service planner such as Planning Center and peek at what the sermon is going to be about this coming Sunday.
Sure, you could call the pastor, but a lot of volunteer worship leaders like you and me do our sets at 10 p.m.! So that doesn't always work.
At any rate, get access to your pastor's sermon plans for the coming weeks and months. It's a big help.
For instance, if you know your pastor will speak on faith, you might plan on doing Hillsong United's "Oceans." If on Christ's forgiveness, perhaps you would play "At the Cross (Love Ran Red)" by Chris Tomlin. You get the idea.
Your pastor will love that you are ready with songs that back up his or her message.
Just a note here, however. Don't feel that every song has to be in lock-step with the theme of the sermon. You have to deal with so many other factors when creating a worship set list—from keys to familiarity to song difficulty—that one or two strong songs around the theme is usually sufficient.
Sample worship set list based on the Theme "Surrendering to God"
"Lay Me Down" – Chris Tomlin
"Come as You Are" – David Crowder
"I Surrender All" (hymn)
"Glory to God" – Steve Fee
The tough thing about a worship set list is that it's really five or six songs that are really one song.
What I mean is you have to ease from one song to the next. One song can't be too different in tempo from the one before or the one after. Sometimes you can get away with big differences if you are creative with your transitions. But going from Hillsong's "Oceans" to "Shout" by Chris Tomlin usually doesn't go over too well.
Sample worship set list with smooth tempo changes
"Go" – Hillsong United (Fast)
"Hosanna (Praise Is Rising)" – Paul Baloche (Medium-fast)
"Waiting Here for You" – Martin Smith (Slow)
"How Great Is Our God" – Chris Tomlin (Medium-slow)
"Glory to God" – Steve Fee (Medium-fast)
TIP #4: CONSIDER DYNAMICS
This goes right along with considering tempo.
Nobody wants to hear five fast songs in a row. No one wants to hear a string of slow ones together either. You got to mix it up.
Note the sample list in Tip #3. It starts upbeat, works its way down to slow, then rises back up slowly.
This formula might not work for your church. Maybe your pastor wants you to end slow to encourage prayer. Or, maybe in your church you start slow and end super upbeat.
Whatever your format, there is always opportunity to take the congregation through the highest highs and lowest lows—a full range of emotion. That keeps them engaged and worshiping. God created us with a vast spectrum of emotions. Why not let your congregation experience a few of them during your worship journey?
TIP #5: CONSIDER KEY
You'll want to figure out in which key you will play each song as you put your list together.
There are a few rules I like to stick to when it comes to key:
Don't play more than two songs in a row in the same key. You lose people after about five to six minutes in the same key. The songs start to drone together. Change that third song or change its key to revitalize people's attention spans.
Try not to go down in key from one song to the next. For instance, if you have a song in A, don't go to a song in G for your next song. If possible, change the next song to A, or better yet, to B.
Use the circle of fifths. Certain keys go better together than others. A surefire way to transition is to pick songs in keys that are next to each other on the circle of fifths. It works both ways. Going to the right, you're going up to the fifth note in the scale. Going left takes you to the fourth note in the scale. Either way works well. So a good key change series would be C, G, D, A, E, then B. Transitioning up one key—from C to D for instance—also works well. However, don't be chained to this method. With a little creativity you can transition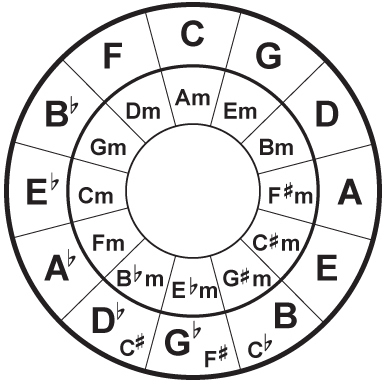 Sample worship set list with smooth key changes
"I Am" – David Crowder. Key of G
"This Is Amazing Grace" – Phil Wickham. Key of D
"Cornerstone" – Hillsong United. Key of D
"God Is Able" – E
TIP #6: CONSIDER YOUR HIGHEST AND LOWEST NOTES
Speaking of keys, make sure you are not singing too high or too low for the congregation. Ninety-nine times out of a hundred, I will play the song in a different key than the song is recorded in. Most people just can't sing as high and low as some of the amazing worship artists these days. Make it easy on your crowd.
According to Worship Together, you should keep the lowest note of any song above a Bb and the highest note below an Eb. I personally stay even lower than this when a song hangs at the higher range for a long time. I can hit a D in passing, but my voice starts to go if I'm hitting a D for half the song! And I'm sure my non-singing friends in the audience don't fair much better.
TIP #7: CONSIDER THE HOLY SPIRIT
Let's face it. As worship leaders, we sometimes like to get up there, do our worship set and be done. But remember—that's only half your job!
Leave room for the Holy Spirit in your worship sets. Don't be so married to your worship set list that God can't get you to add a spontaneous song or even repeat a chorus!
Don't be afraid to go off script and let God take over. That's what worship leading is all about. A great set list is just a starting point. Let God work through it.
This article originally appeared here.