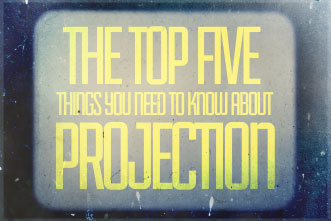 More and more churches are moving toward using projected content of some kind in their services, and this post is aimed at heading off the purchasing of the wrong projector for your specific application. Below, I've assembled my top five questions to ask when considering a new projector.
1. What size screen do we need?
The basic rule of thumb is to measure the distance from the screen to the location of the viewer who will be seated the furthest away from the screen and take one-sixth of that measurement. For example, if the distance is 60 feet, then the minimum height should be 10 feet. Keep in mind that this is a general rule of thumb; do the calculation, but measure it out on your wall with painters tape and eyeball it, show it to people and get their input as it allows for other perspectives and more buy-in and support.
2. Do we have space for a projector and screen?
If you don't have the wall space for a screen of adequate size, then a good alternative is a large flat-screen TV. There are many considerations to take into account before purchasing a flat-screen TV, but just know that it could be the better solution.
3. What kind of content will the screen be used for?
The answer to this question will also answer what resolution your projector and source must be, how large your screen must be for a pleasant viewing experience for everyone and how large of an investment the church will actually be making.
If you are planning on video content, such as Image Magnification or IMAG, where a live camera feed of the action on the stage is projected onto a screen or screens, then the size of the screen is fairly forgiving. It gets much less forgiving if you add a lot of small text to the projected image, like lower thirds or a Scripture passage, etc. Those details are just as important as the video image as they are meant to add to the experience. For a fairly complex IMAG setup as I have just described, I would opt to size a screen based on the below rule of thumb.
For computer-based content, like song lyrics, full-screen graphics and/or slides, the text detail is very important; if the people cannot read the text in the screen then then entire purpose of having the screen(s) has failed. A larger screen will be required in addition to higher resolution. In the same setup as I described above with a maximum viewing distance of 60 feet, our screen will need to grow in size to 180 inches, or 15 feet! And the resolution might need to jump, as well. You can project high-quality video at 1280×720, but your text will suffer, whereas a full 1920×1080 is very close to the computer standard WUXGA of 1600×1200. There are certainly higher resolutions, but there are significant price jumps associated with each new tier.
4. How much ambient light is in the room we would like to project in?
Light that spills onto a projection screen that cannot be dimmed or turned off will kill the image; it washes it out and people begin to question why the church spent x-amount of money on a projection system that can't produce a decent image. In some cases, the church purchased an underpowered projector for their needs, but in most cases I've come across, both personally and as a consultant, the problem is ambient light. What you are really after with this question is to discover if you have control over the lighting in the space and how easy those controls are to operate in a typical service.
5. Why do we need projection?
It's important to honestly evaluate your motives. Are you seeking it because it would truly add value and blessing to the service and the experience, or are you wanting to try to keep up with another church?
The latter is no reason for any upgrade, regardless of whether it's a new furnace, stained glass, an organ or tech equipment. Every purchase should be right for the specific church and not because you're trying to emulate something a different church has. Definitely visit other churches and take notes on areas they do better in than you, but discuss those notes with your team, with leadership and with God to find the path that's right for you.