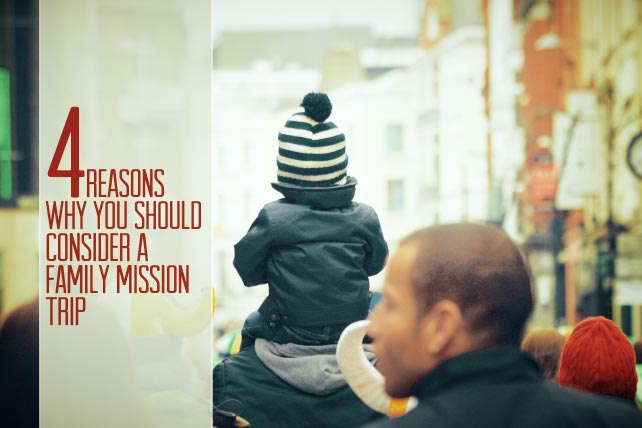 As Children's Ministry leaders, we're constantly thinking about how we can help kids understand and grow in the Gospel. And in recent years, we've rightfully returned to emphasizing the role of parents as the primary spiritual leaders of children. Now, I believe it's time for us to consider ways that our ministry can accomplish both goals at the same time. A Family Mission Trip or Mission Project may be one of those ways for your church.
What I mean by Family Mission Trip/Project is a week where the whole family can serve, worship and do Bible study together. This could be as elaborate as a trip outside the country with a missionary team or missions partner. Or, this could be as simple as some service projects in your city with a guide for families to use when they return home each night. Either way, the families are spending time together and experiencing missions.
Over the last couple of years, I've had the privilege of leading a Family Mission Trip to Guatemala City, Guatemala. We use the week of Spring Break to partner with Fellowship Guatemala, minister to kids in the local community and evangelize to those in the surrounding communities. I'm not exaggerating when I say that every family who has gone has been eternally impacted and forever changed by this experience.
From our experience with the Family Mission Trip, here are four reasons why I think you should consider a Family Missions Trip/Project:
1. To help parents grow in their faith and model faith for their children
Psalm 145:4 says, "One generation shall commend your works to another, and shall declare your mighty acts." Every parent wants to equip their child to have a strong faith in Christ and live it out. Serving together on a family trip is a great way for children to see their parents living out their faith and an even better way for parents to see how God is maturing children in their faith.
2. Opportunity to see the power of the Gospel transform the hearts of all mankind
As families worship alongside other families in the community they're serving, they get the chance to hear stories of how God's grace has transformed lives, families and communities. Last year, our families walked down a street in Guatemala that once housed a major drug operation. As the grace of God invaded the community, that community was changed. Now, that street is the home of the Fellowship Guatemala Opportunity Center that ministers to over 60 kids. On a family trip, your church families have the opportunity to experience life with other families from different communities and see the transformative power of the Gospel.
3. A whole week to pray together, worship together and fellowship together
A Family Trip schedule should be designed to give each family several opportunities a day to pray, study the Bible and worship together. Begin each morning with a family devotional before heading out to serve in the community. Throughout the day, there will likely be many moments to fellowship and talk as a family while you serve. Then, end each night with an opportunity to families to worship together and share what they saw God do that day.
4. To spark a lifestyle of service for the family that will continue long after the trip
Before our return flight landed, each family was already talking about when and how to get back to Guatemala. The experiences families have while serving together will leave a noticeable mark on their hearts. These experiences pull us out of selfishness and into a lifestyle of service. And the greatest part is watching this passion for serving others spill over to serving in so many other areas—like in your children's ministry!
Take a chance and start planning some type of mission experience for families this summer. I don't doubt that God will use that experience to help children grow in the Gospel and help parents better understand how to lead their child in a maturing faith.