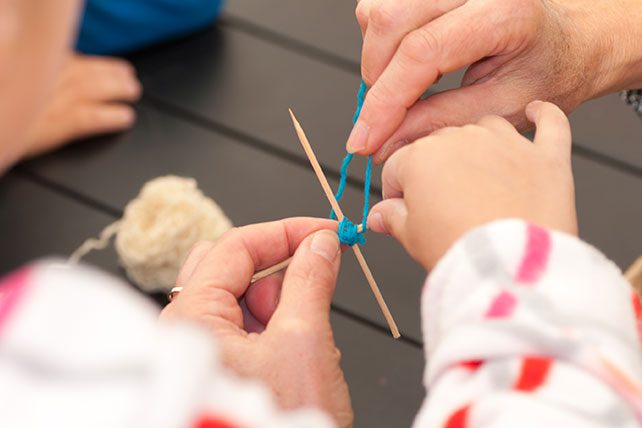 A God's eye craft is a perennial favorite for kids. With simple supplies of wooden craft sticks and yarn, children can weave beautiful designs and keepsakes. Maybe you have fond memories of making God's eye crafts in Sunday school or vacation Bible school. Did you know the God's eye craft also has some biblical symbolism?
Scripture assures us that God is all-seeing, all-knowing, and all-present. God is always watching us—and watching over us. For children, such constant "super-vision" might feel threatening. So assure them that God's eye is on us to protect us from evil and harm.
Help add meaning to this kidmin activity by providing age-appropriate context for students. For little learners, keep things simple, emphasizing God's love and care. For older kids, encourage discussions about God's role in our daily lives and in the world.
God's Eye Craft: Biblical Themes & Design Ideas
First, let's look at some biblical themes of a God's eye craft. Then we'll share some neat variations on designing God's eyes with kids.
Biblical Themes of a God's Eye Craft
Throughout Scripture, we read about God's loving attentiveness. God is always watching over his children. Job 34:21 (NIV) reads: "His eyes are on the ways of mortals; he sees their every step." God also opens the eyes of his children so they can follow his laws and his ways.
Here are some resources for reading more about the eyes of God:
This website offers insights about Proverbs 15:3. "The eyes of the Lord are everywhere."
This resource that looks at God's eyes is helpful for Sunday school teachers. Note the links near the bottom about discussions on other anthropomorphic aspects of God.
And here's a kid-friendly Bible message about God's eye being on the sparrow. (See Matthew 10:29-31.)
7 Design Ideas for God's Eyes
Help children get creative with these crafty ideas:
1. Directions for a God's Eye Craft
Here you'll find step-by-step instructions for weaving a God's eye craft, or Ojo de Dios. Plus, a brief Bible study addresses God's watchfulness.
2. Craft Through the Alphabet
This website offers a kidmin craft for every letter of the alphabet! The God's eye craft, for G, comes with several relevant Bible passages.