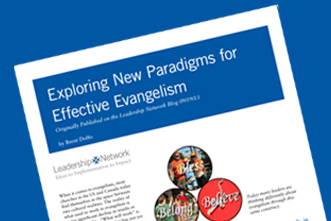 Free eBooklet
Download and share this eBooklet with your leadership and outreach ministry teams.
From the author, "In a shifting cultural landscape, large, effective churches are not just relying on their invitational culture to drive their evangelism but they are also experimenting with new paradigms of evangelism, trying to 'go' to those who won't 'come to them.'"
Resource provided by Leadership Network
Download Instructions: To download this resource, follow the on-screen directions at the download site.