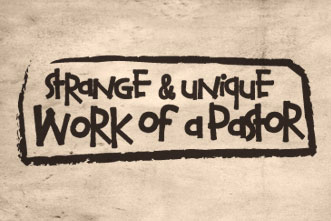 Being a pastor is a strange thing.
We proclaim a message with the power of God to change people, but we can't even change ourselves. We call others to perfection, as Jesus did, but our lives are full of imperfection.
We must shepherd like the Shepherd though we're just one of the sheep.
We seek to make Christ increase (though he's invisible to human eyes) as we seek to decrease (though we stand in plain view week-by-week).
We say numbers don't matter, but long for many to be saved. We labor to grow the church, even though we realize each soul increases our accountability before God.
We try to express the Infinite and Eternal in 45 minutes or less; obviously, we fail, so we try again next week.
We spend our lives studying a book that we'll never fully grasp, and we labor to explain it to a people who can't understand apart from the work of a third party. The more we study, the more certain we become of the wisdom of God and our own foolishness, and yet we must preach on.
We are told that not many should be teachers and that there will be stricter judgment for those who are, and yet, we cannot fight off the compulsion to preach.
We call people to something they can't do with an authority that is not our own, and then at the end of our lives, we give an account to God for the souls we pastored.