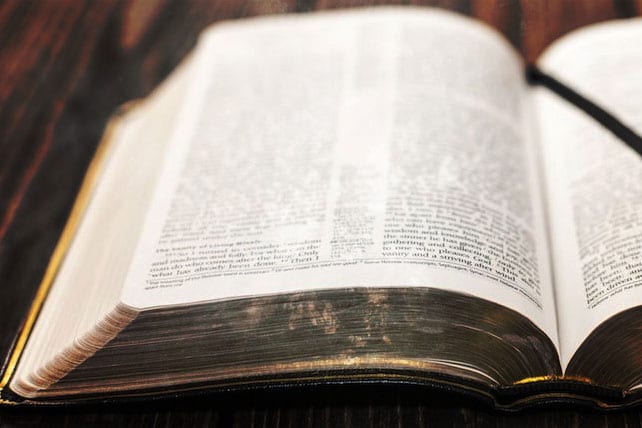 When was the last time you read a book? For almost 1 in 4 of us, it was more than a year ago, according to Pew Research. That's three times the number who didn't read a book in 1978. In America, we have a literacy problem. But more concerning to me, we have a biblical literacy problem. Americans, including churchgoers, aren't reading much of any book, including the Good Book.
The Sad Statistics
Christians claim to believe the Bible is God's Word. We claim it's God's divinely inspired, inerrant message to us. Yet despite this, we aren't reading it. A recent LifeWay Research study found only 45 percent of those who regularly attend church read the Bible more than once a week. Over 40 percent of the people attending read their Bible occasionally, maybe once or twice a month. Almost 1 in 5 churchgoers say they never read the Bible—essentially the same number who read it every day.
Because we don't read God's Word, it follows that we don't know it. To understand the effects, we can look to statistics of another Western country: the United Kingdom. The United Kingdom Bible Society surveyed British children and found many could not identify common Bible stories. When given a list of stories, almost 1 in 3 didn't choose the Nativity as part of the Bible and over half (59 percent) didn't know that Jonah being swallowed by the great fish is in the Bible.
British parents didn't do much better. Around 30 percent of parents don't know Adam and Eve, David and Goliath, or the Good Samaritan are in the Bible. To make matters worse, 27 percent think Superman is or might be a biblical story. More than 1 in 3 believes the same about Harry Potter. And more than half (54 percent) believe The Hunger Games is or might be a story from the Bible.
But it's more than simply not knowing stories from Scripture. Our lack of biblical literacy has led to a lack of biblical doctrine. LifeWay Research found that while 67 percent of Americans believe heaven is a real place, 45 percent believe there are many ways to get there—including 1 in 5 evangelical Christians. More than half of evangelicals (59 percent) believe the Holy Spirit is a force and not a personal being—in contrast to the orthodox biblical teaching of the Trinity being three Persons in one God. As a whole, Americans, including many Christians, hold unbiblical views on hell, sin, salvation, Jesus, humanity and the Bible itself.
There is little excuse for anyone living in Western Civilization, particularly Christians, to not know or read the Bible. Nine out of 10 American homes have at least one Bible. The average American—Christian or not—owns at least three Bibles. And technology has put Bibles at our fingertips wherever we are—you can download the Bible for free on your smartphone.
In contrast, most Christians desire to become more mature followers of Christ. LifeWay Research found 90 percent of churchgoers "desire to please and honor Jesus in all I do." Almost 60 percent agree with the statement, "Throughout the day, I find myself thinking about biblical truths." It's striking that while most of us desire to please Jesus, few of us take the time to check the Bible to find out if we are actually doing it. Clearly, there's a disconnect.