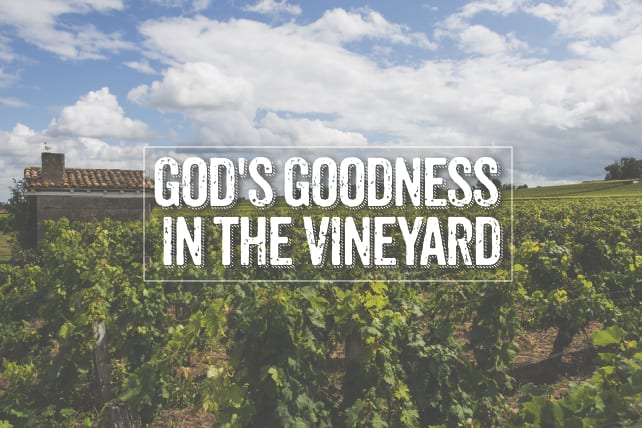 It starts out like a love song but then it abruptly takes a turn to a sharp rebuke. God's poem for Israel in chapter 5 of Isaiah serves to remind us of his goodness. It may seem surprising to say goodness in the midst of threatenings for judgment, but I assure you it is here.
God's goodness in caring for his people
In verse one of chapter 5 we read that God is singing for his beloved. He is singing over his vineyard, which is Israel (Is. 5.7). He is so good and kind to show love (1), care (2a) and optimism (2b). There is a serious investment in this vineyard. God's work in this vineyard to care for his people shows his goodness.
God's goodness in judging his people
But as we read, the people are rebellious. They have disobeyed God's word and have earned the coming judgment (Is. 5.5-7). God even appeals to any who would dare condemn him for not being gracious, there is nothing more he could have done (Is. 5.3-4). He has been exceedingly gracious.
Now God must act and judge. What comes in the remainder of the chapter is nothing short of a blistering humiliation in judgment. Everywhere that Israel exalted itself they will in like manner be humiliated. And further, everywhere that God has been ignored or marginalized he will be seen to be glorious. Isaiah pronounces a series of woes upon the people (8, 11, 18, 20, 22, 23). These woes show the abuse of the material blessings in the first two and then the violation of God's moral and spiritual standard in the final four.
Here we are reminded that it is God's goodness that demands God's judgment. This sounds a little counterintuitive at first blush. After all, how can God's goodness demand such a thing as wrath? It is because sin is ultimately against God. It is a besmudging of his glory, a defaming of his character, a belittling of his fame. If God were to simply turn a blind eye to this he would be the very opposite of good. To do this he would be compromising his goodness. By a lack of judgment he would be (however passively) calling evil good and good evil. This is one of the things that God is judging them for (cf. Is. 5.20). God shows his goodness in how he responds to wickedness.
God's goodness in saving his people
This image of the vineyard was without a doubt ingrained in the minds of the Jews. They had been God's vineyard but because of sin he had brought in the nations to judge them. By the time of Jesus' earthly ministry, the Assyrians, Babylonians and even the Romans have shared in the expression of this judgment. The vineyard was overgrown with thistles, thorns, briars, and was badly parched (Is. 5.6).
Then you have Jesus coming onto this scene with the thistles and dried-out leaves of the good old days crunching under his feet as he walked about. He comes to the Jews and he speaks to them and says this,
""I am the true vine, and my Father is the vinedresser." (John 15:1)
What do you think they might have been thinking? Probably, "Who does this guy think he is?"
But he would say more,
"Every branch in me that does not bear fruit he takes away, and every branch that does bear fruit he prunes, that it may bear more fruit." (John 15:2)
This would ring a bell. Israel was told that instead of producing "good fruit" they produced "bad fruit"—actually, more literally "stink fruit." Therefore, God judged them. Now, Jesus comes along and says that he is the vine and through him they can bear fruit. Shocking!
"I am the vine; you are the branches. Whoever abides in me and I in him, he it is that bears much fruit, for apart from me you can do nothing. If anyone does not abide in me he is thrown away like a branch and withers; and the branches are gathered, thrown into the fire and burned." (John 15.5–6″>John 15:5–6)
Here is God's goodness on display. The promised King from Isaiah 6 was here. He comes and says, "The vineyard was planted and destroyed because of its stink fruit. But I am the true vine. If you abide in me you will bear good fruit." What a message! Christ comes as the Israel of God, the true vine, to bring his wandering and wounded home. How good is God? He does not leave his people to suffer for their sin but he sends his son to do it for them. God's goodness is displayed in his saving of his people.
"Oh give thanks to the Lord, for he is good, for his steadfast love endures forever! Let the redeemed of the Lord say so, whom he has redeemed from trouble and gathered in from the lands, from the east and from the west, from the north and from the south." (Psalm 107:1–3)