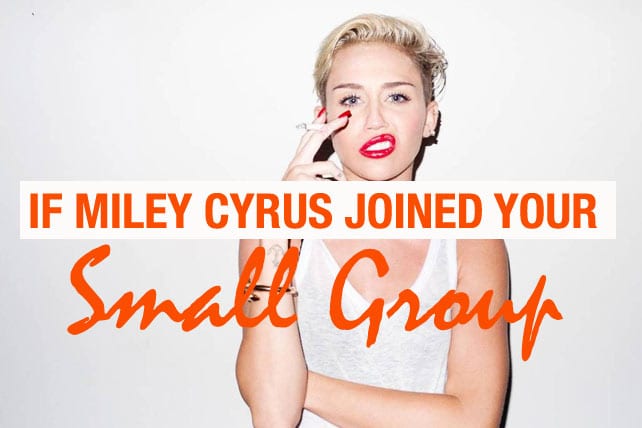 Imagine it's Tuesday night and your group is all in place. Everyone has taken the seat they fill each week. You've just asked the group an icebreaker question and then you're blindsided by a knock at the door. You think to yourself, "Who could that be?". Unlike most weeks, every group member is in attendance, on time, and beginning to engage in the evening's conversation. You open your door to find Miley Cyrus standing there, smiling at you, asking if she can join your group.
So… What if Miley Cyrus joined your small group?
Before I get into some thoughts on this, let's describe the person that is Miley. An interview she did this week with Amanda Petrusich that I read about on Fox News online reveals some of her ideals about the Bible, those of us who believe it is truth, and her personal moral code.
Her thoughts on Noah's Ark gives us some indication of what she thinks about the Bible and those who believe it is truth… "That's *&%#$ insane," she says. "We've outgrown that fairy tale, like we've outgrown *&%#$ Santa and the tooth fairy."
When it comes to sexuality… "I am literally open to every single thing that is consenting and doesn't involve an animal and everyone is of age. Everything that's legal, I'm down with. Yo, I'm down with any adult — anyone over the age of 18 who is down to love me," she says. "I don't relate to being boy or girl, and I don't have to have my partner relate to boy or girl."
If you're an evangelical, Miley's worldview probably differs from yours and the people in your group. But is she welcome in your group and if she is will she be treated as she deserves and should to be treated? A few thoughts…
First … It would be important to remember that Miley Cyrus is a fellow journeyer. Most of us were once journeyers… with an attitude. Many followers of Christ, prior to accepting the grace Jesus offers, were belligerent toward those people they believed were closed minded, seemingly judgmental Christians. Like Saul, whose story is mostly told in the book of Acts, we attacked those we believed to be simple minded people who called themselves Christ followers. Saul the persecutor of Christians, attacked them physically. (Acts 8:3) Most of us once were, like Miley, verbal warriors. Once given the opportunity to know the Jesus of the Bible and process the Gospel with someone or some people who accepted us and respected us just as we were, we accepted the grace He offered. Because we have been where Miley is we can walk with her as she journeys closer and closer to a true understanding of the Gospel.
Also, it would be important to speak to your group when Miley isn't around about the relationship Christ followers have with those who think and live differently than they do. Too many Christians view those who live by different standards than themselves as the enemy. This isn't how the Bible tells us to view these fellow earth dwellers. In the world in which we live, we are all neighbors. Believers are to treat everyone, including our polar opposites, as neighbors. In an interview Tim Keller did November 29, 2011 he was asked what Christians have against homosexuals. A few excerpts from his response to that question… "The Bible says, "Love your neighbor." Everybody is your neighbor. The job of a Christian is to do what Jesus did on the cross which was to give Himself for people who opposed Him. A Christian is supposed to say, "I serve the needs and interests of all my neighbors in the city whether gay or straight, whether Hindu or Muslim, I'm suppose to love my neighbors."
When Jesus was asked, "Who is my neighbor?" He went on to tell the parable of the Good Samaritan. (Luke 10:25–37) The Samaritan, someone who was despised by the man beaten and left to die, met the needs of the beaten man illustrating what a neighbor truly is and does. Miley is simply another neighbor in need of other neighbors who love and serve her… no matter what she believes, what she feels about the person serving her, and no matter what situation she's in.
Finally, I think it's going to be very important that you find out what she is passionate about and get the group to join her in those passions. Miley Cyrus is zealous when it comes to her concern for the homeless. In fact, when she was given the Video of the Year award for Wrecking Ball she asked a 22 year old homeless man, Jesse Helt, to accept the award for her. If you saw the award ceremony that night you'll most likely recall that, when he received the statue on her behalf, she sat on a partition gazing pensively at him. Later she stated, "I felt like I was witnessing a modern-day 'I Have a Dream,' and it had nothing to do with me."
When Jesus spoke of His followers being salt and light, He said, "… let your light shine before men, so that they may see your good works and give glory to your Father in heaven." (Matthew 5:16b) Imagine how loudly it would speak to Miley if she was a member of your group, told the group of her passion for helping the homeless, and your group began to meet the needs of the homeless on an ongoing basis. Miley would see your good deeds and begin to realize that you are more than what she might mistakenly perceive you to be, institutionalized ecclesiastical criticizers. Rather, she would realize that, because Christ has transformed you, you are truly being the Gospel you talk about and that the Father in heaven is to be praised because He is the source of the good works you are doing.
While it doesn't seem possible that Miley Cyrus will join your group (although I'm pausing right now to pray that she might get in a welcoming, transformational small group) many of us will have people who are far from Christ who might.
So…
Remember that those who are far from Christ are journeyers as you and your group members once were.
Treat everyone as neighbors and make sure your group does the same.
Find out what the person far from Christ is passionate about and engage your group in that thing.