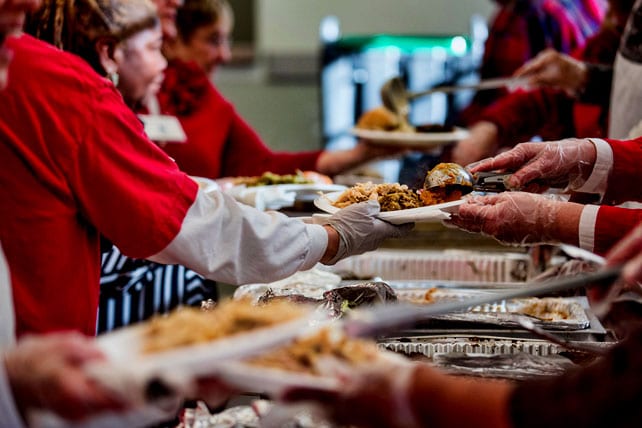 The temperatures are dropping, the trees are being decorated and the nativity scenes are being displayed. This can only mean one thing—Christmas is coming! It is so easy to get caught up in the hustle and bustle of the holiday season, but Christmas should be a special season for churches as we celebrate Jesus.
There are many wonderful Christmas events you can participate in as a church, and the Christmas season is also a great time to intentionally reach out to your community. Many non-churchgoers are on the lookout for family Christmas activities or where to attend a Christmas Eve service, and there may be some families in need within your community who could use a little help this Christmas.
This Christmas season, celebrate the birth of Christ not only with your friends and family, but also with your church and members of your community.
Here are 12 ideas of ways to do just that:
1. Host a Christmas program
Christmas programs come in all shapes and sizes. Bring in some community musicians to host a Christmas concert or have an "all call" and allow community members come together to form a choir one evening.
Some churchess have a "Living Nativity" where actors and live animals portray a nativity scene. Others host a performance of Handel's "Messiah."
You could even bring your entire community together by hosting one big free event, like Nashville's Crosspoint Church's "A Merry Music City Christmas." And of course, a candle light service is always a beautiful tradition for church members and non-church members alike.
2. Facilitate a holiday market
Holiday craft/arts markets are a great way for your community to not only have the opportunity to shop local this holiday season, but also a way to engage people that may not normally visit your church. It supports local artisans and builds church awareness for you—it's really a win/win.
Ecclesia Church in Houston, Texas, hosts the Elder Street Market every November to create a space where local artists can share their work and the community can check out Ecclesia.
3. Participate in your local Christmas parade
A great way for your church to have a presence in your community is by participating in your local Christmas parade. This could be a great activity for your youth ministry to participate in. Borrow a flatbed trailer and have the youth group members dress up, toss out candy,or go all out and make a float. It will be fun for the whole family, and you can have fliers for your Christmas Eve services available for the people at the parade.
4. Create an Advent calendar
Host a night for families to create Advent calendars for their homes. This is a great way for kids to have fun while learning about the coming of Jesus. They can invite their friends from school as well.