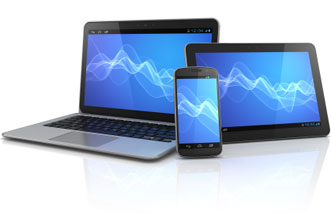 I am so fortunate to work in the Communications Department at Granger Community Church. I began volunteering in 2004 and eventually came on staff in 2006. Up until then I dabbled in web technologies, but it wasn't until I had rubbed shoulders with the team here that I began to fully understand the intricacies involved in good story telling.
People like Kem Meyer and Jami Ruth have been instrumental in helping me understand,
Your story will look a little different depending on where you tell it.
We don't have hard and fast rules about this, but I think it could be summarized like this:
Mobile Devices: Just the facts, some interactivity and some bling
People use their mobile devices differently, but you could say that the majority of them are doing the following:
Looking for information quickly
Connecting and networking with other people
Listening to, playing or watching cool stuff
Because of this, things like dates, times, product availability, etc. should be easy to find and consume on the run. Link to your social media outlets and encourage people to get connected. Allow simple interactivity like short feedback forms, simple give online forms, share-this functionality etc. Podcasts, short video clips and apps are becoming more and more common in the mobile environment. Put your best stuff out there in mobile formats so people can consume it and share it easily.
Desktops & Notebooks: The facts with descriptions, interactivity and all the bling
When telling the story for standard online consumption you have a bit more flexibility. People are still looking for the facts, but are willing to spend a bit more time reading descriptions, summaries and supporting copy. They also expect that pages will be more graphical and interactive than on a mobile device. When a page has a lot of copy (requiring a page height of over 2000px or so) it can be helpful to create a PDF document that can be opened if the user requires this information. A good mantra:
Only show people what they need, but allow them access to the stuff they might need.
Allow people to interact in a variety of ways. Instead of linking away to your social media outlets, try pulling that content in. Encourage interaction on your site along with discussion about your site in other places. Elicit feedback through web forms and allow people to sign up for stuff, purchase products or donate to your organization/company.
As Internet connection speeds increase, we have more and more freedom in the "bling" we can distribute. At this point, make all your media available (podcasts, video clips, full length video, photo galleries, etc.). People will literally sit down and watch a 45 minute video on your site if it is done well and they find it helpful.
Print Materials: The facts with descriptions and URL's
Print is an interesting medium, but hard to to make global statements about. You have things like postcards which may have dates, times and descriptions and are meant to be thrown away after the fact. Then you have handouts which might have a longer shelf life and won't include dates and times that would go stale. Or you may have documents meant to fully describe a product or service. These could live as long as the product or service exists.
The problem with print materials is that they are old the minute the ink dries. There is no fixing a spelling error, or editing the copy to make it more up to date. Because of this the most important thing to remember about a print piece is the URL. Make sure to describe something in general terms and give a URL to your website for more information. There may not be a lot more information, but it will be the correct information.
Face-to-face Communication: Tell them everything
There is no getting around the fact that the best way to communicate is face-to-face. If a person has questions and you have answers, there should be few barriers to them getting the information they are looking for. It may not have the polish of a glossy print piece or the emotional impact of a touching media, but there are limitless possibilities in this form of interaction.
Of course you have to factor in human error, personality conflict, poor communication styles, poor listening skills and all that jazz – but that's another post entirely…