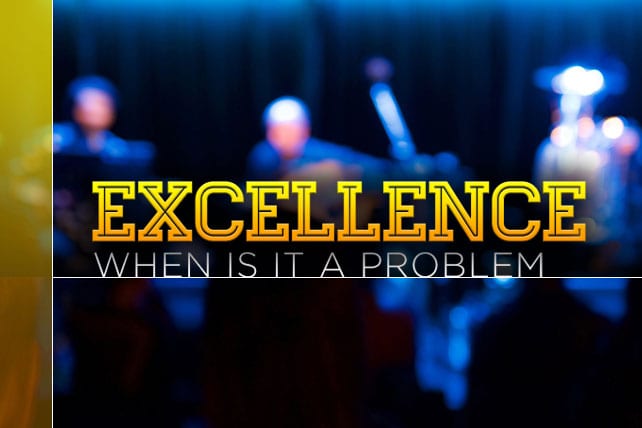 At what point does excellence and production value become too much?
When does it cease to serve the local church and, instead, distract us from our goal—equipping the saints for the work of ministry?
We're always waiting for what's next. Doing more. Making everything better.
I've heard the argument on both sides.
If your production is over-the-top excellent, you are a seeker sensitive, sellout church with no Bible, no depth and a congregation that shows up to be entertained.
If you're a small church with little to zero production value…well, that's also looked upon with a certain degree of chagrin. You at least have to be using a click, right?
Of course, these are blanket statements to illustrate a point.
Today, I'd love to set the record straight as far as excellence goes. As best I can.
The Role of Excellence
Problems surface when excellence becomes the end rather than a means to an end. When it becomes a competition to prove yourself or your brand. When you want to be impressive.
I think we all agree that the greatest strength of a worship team isn't just musical ability. We're after heart. We're after unity. We're after something more than just flawless worship sets.
The Bible has something to say about this.
For it is we who are the circumcision, we who serve God by his Spirit, who boast in Christ Jesus and who put no confidence in the flesh" (Philippians 3:3).
In this passage Paul goes on to say that if anyone has a reason to boast, it's him. He has the skills, the good looks, the resume, the bloodline, to boast.
The problem is that Christian ministry isn't about what you can do. It has everything to do with what God can do through you.
The best ministry teams don't flaunt their talent. Even if they're the most talented, impressive singers and musicians this world has ever seen, it's not the weapon they lead with. Rather, they put no confidence in the flesh and serve God by the Spirit.
Of course, this doesn't mean we outlaw talented people and lower our standards of excellence.
I noticed that this past weekend. I want my musicians to be excellent—not as an end in itself but as a service to something greater. Practice finds its proper place when your heart is captured by something greater—the glory of God.