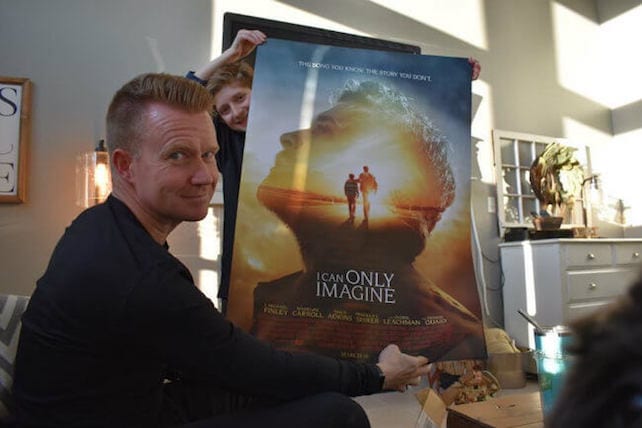 Joe Knopp didn't grow up anywhere NEAR Hollywood, and yet his life story sounds like something out of a screenwriter's wildest dreams. Sent to an orphanage at age seven, Joe was a product of "the system." Statistics say his adult life should have been dismal, but God said something entirely different: Joe would have a life he never could have imagined. So the fact that Joe is now one of the producers of the Hollywood film I Can Only Imagine is particularly fitting, and screams "Divine Intervention."
I Can Only Imagine, starring Dennis Quaid and J. Michael Finley, tells the story behind MercyMe's double-platinum hit song that was a favorite on Christian and secular charts alike. Finley plays songwriter Bart Millard, and Quaid plays Millard's abusive dad. It's a "behind the music"-style story that will leave viewers even more inspired by the song than they already are, but the message of redemption rings true for producer Joe Knopp in a different way.
For producer Joe Knopp, I Can Only Imagine reflects his own redemption story, too.
Knopp was born in Philadelphia, the youngest of three siblings (he has two older sisters). His parents' violent marriage came to an end when Joe was just five years old. Police took him, his sisters and his mom to safety, and Joe never saw his father again. Unlike Bart Millard and his dad in I Can Only Imagine, Knopp would never be able to reconcile with his own dad. Years later when he tried to find him, Joe discovered he had long been deceased.
Although Joe and his older sisters went to live with his mom, she was unstable and never able to properly care for them; the three Knopp siblings were essentially on their own. Then, when Joe was about seven, church became a part of his story: His sisters discovered a local church where they could get a free meal of donuts and orange juice on Sundays. Week after week the three siblings showed up to be fed, and eventually, they caught the eye of a church member who could tell something wasn't right about the situation. He tracked down their mom and got her permission to take the three kids to an orphanage that was run as a Christian mission. Most kids, Joe says, lived there for just a year or two while their parents got it together. It wasn't supposed to be a long-term situation.
But the Knopps were not "most kids" and their mom never got it together. They all lived there until they graduated high school, much older than the rest of the kids on the grounds. As it became clear that they were staying until adulthood, the orphanage struggled to figure out what to do with the siblings. Eventually, the orphanage made a little apartment for them on campus so that they could at least live with each other family-style, even though they did not have parents.
Fortunately, regular church service was a part of life at the orphanage, and it was there as a child that Joe finally found a Father who would never abandon him. He surrendered his heart to Christ, and though he didn't know it, his life now had a defined path and purpose. When he was 18, he was sent off into the world with good grades, a high school diploma and a faith in Christ.
Like Bart Millard in the I Can Only Imagine movie, it seemed that the odds in life were stacked against Joe Knopp—but at 18, the redemption of his parentless childhood was just beginning. Though he got into college, Joe left campus when he realized that just buying his books and parking his car for a month would take literally every penny he had. God, he says, guided him to the local Air Force recruiting office, where he signed up, knowing that the military would give him a home as well as an education.
God's hand on Joe's life began to bear fruit in noticeable ways. Amazingly, the boy who grew up without a family was soon able to create a stable one of his own. While assigned to the Wright-Patterson Air Force Base in Ohio, he acquired both a wife, Angie, and a degree—in finance. After leaving the military, Joe started a successful financial planning business of his own and he and Angie had three kids, who unlike Joe, would grow up with a loving and present father and mother and a stable, safe roof over their heads.
After many profitable years in financial planning, God's plans for Joe's life took him in a startling new direction when he was asked by a friend to help secure finances for faith-based movies. A new career was born, and the orphaned kid from Philly was now a Hollywood movie producer. The film he's producing, I Can Only Imagine, is a remarkable full-circle sign that God had his hand on Joe's life from day one. Because who could imagine that Joe would overcome childhood trauma to even be a stable adult, much less one who brings powerful stories of God's love to millions of people through film?
Now, Joe and his colleagues hope to use the power and beauty of STORY in I Can Only Imagine to help others see that we can ALL be a part of God's story if we will just let Him change us from within.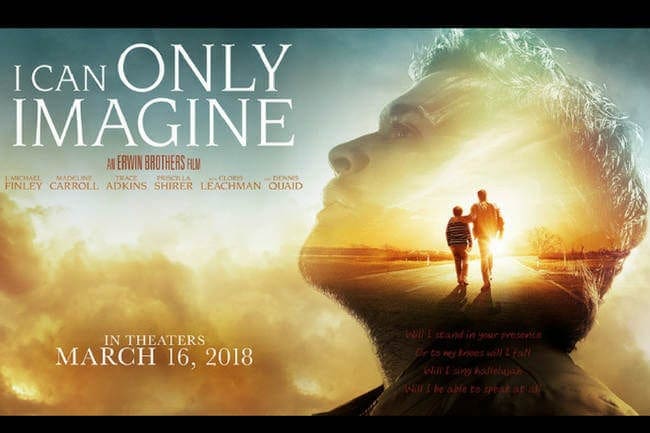 So, when you go see I Can Only Imagine when it opens on March 16, I pray you will remember Joe's story as well as Bart's—and maybe take a friend to the movie who might just need a reminder of how God can use hard things in our lives for GOOD.
Tickets are on sale for I Can Only Imagine NOW—consider grabbing some friends and go opening weekend! And until then, enjoy the trailer below!
If you want Joe to share his story of God's redemption and HOPE with your church or group, contact him at his site, JoeKnopp.com.