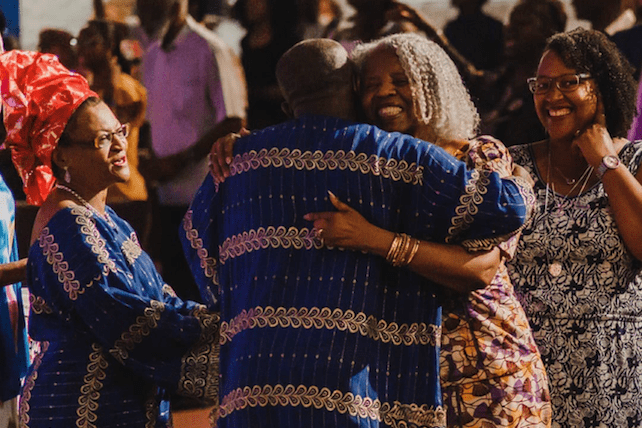 "I enjoyed the service this morning even though I was out of sorts because of my recent divorce. I have good days and bad. I would like to learn how to have more good ones. My son says you're my man! Would you have time for a talk during your office hours?"
Pastor Rob Culler received this Facebook message after a gentleman visited Trinity Assembly of God in Midlothian, Maryland. He was invited by his son to Back to Church Sunday, a national movement that Trinity Assembly, along with over 10,000 churches around the globe, participated in on Sunday, September 15, 2019. Thousands of people like this gentleman went to church simply because someone invited them…back to church. Culler has since met and prayed with the visitor, who has also returned to Trinity Assembly for services.
This year's National Back to Church Sunday theme "Together" speaks to the need everyone has for community and the endless search to belong. "It really paints a picture of what the church is all about—a place where people can gather together from a variety of different backgrounds, ethnicities, cultures, political persuasions, and be celebrated," explains Jason Daye, executive director of Back to Church Sunday. "Together we grow stronger. Together people can strengthen one another and encourage one another, really living out life as God intended. Together we make a difference, and we can change the world through Christ."
The theme was apropos for Pastor Alicia Lytle, of Excel Church in Akron, Ohio. A busy wife and mom of four, she, her family and three others worked together to launch Excel on Back to Church Sunday. "I had limited time but still needed to properly develop an inviting culture and build excitement for the expected move of God," says Lytle. "I was able to create that momentum with the amazing tools and resources in the Back to Church kit—from the countdown memes to the invite videos—and attach the launch for the ride to maximize exposure."
Forty-four people came to Excel's launch! "We give God praise because beyond that, we know that God sent the leadership for the plant to the launch, and together we will expand and grow God's church," she says.
Churches across the country are now connecting with the many who, up until September 15, have been far from church. Culler's Trinity Assembly averages 200 people on a Sunday but bumped up to 237 on Back to Church Sunday. Ten Mile Community Church in Meridian, Idaho, sees about 265 on an average Sunday. On Back to Church Sunday, they bumped up to 400.
Harvest Christian Center in Cantonment, Fla., went from 170 to 220.
Empowered Church International in Palmdale, Calif.—17 to 64.
In fact, participating churches saw a 26 percent increase in church attendance.
Many were able to use the available Back to Church tools to excite members to invite and get the word out. "The resources were so thorough that everything connected. From the T-shirts we wore to the message I preached to the slides to the social media invites, it all went together," explains Lytle. "And with a church our size, if it were not for the affordability of the flags, banners, shirts, engagers, invite cards, etc., we would not have been able to have the same reach!" In sum, nearly 5 million invitations were sent out from participating churches.
The hope moving forward is that churches will continue to reach out and follow up with those who visited—to connect and develop relationships, much like Culler and the visitor to Trinity Assembly, who now have future meetings on the calendar. "National Back to Church Sunday is a catalyst for local churches to create a rhythm of outreach and evangelism in their communities," Daye says. "This spills over into fall, advent, Christmas, Easter and throughout the whole year."
Among churches that participated this year, 96 percent say they'll do it again. And next year's Back to Church Sunday is already on the books—September 20, 2020. So, mark your calendars and sign up starting May 2020.
Says Lytle, "To God be the glory for what He began at Excel Church on Back to Church Sunday!"
And what He began at thousands of other churches, too.