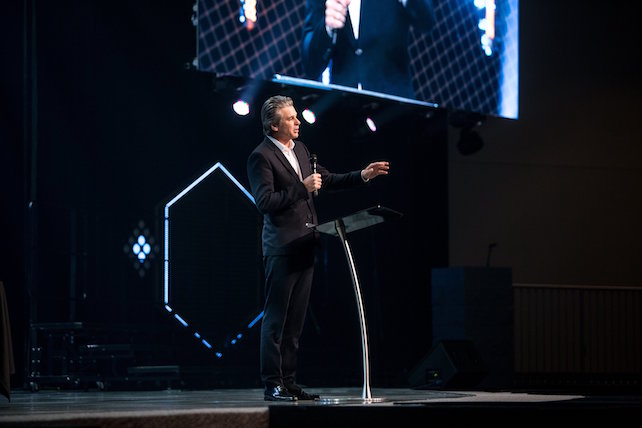 (RNS) — Jentezen Franklin, a prominent pastor and unofficial evangelical adviser to President Donald Trump, has tested positive for COVID-19, the disease caused by the novel coronavirus.
Free Chapel Pastor Javon Ruff announced Franklin's diagnosis during services Sunday (Dec. 20) at the Atlanta-area megachurch, saying the senior pastor "actually is doing great," according to local news reports.
That announcement comes days after Franklin attended a Christmas party at the White House, though a spokesperson for Free Chapel said the pastor's illness had no connection to the White House event.
Rather, the spokesperson said in a written statement shared with RNS, Franklin came into contact with the virus at least two days after the party.
It was not immediately clear what day Franklin had visited the White House. He posted photos and videos of the event Tuesday on Instagram. He then "was exposed to an associate of the congregation in the (Atlanta area) on Thursday, who turned out to be infected," according to the statement.
So far, his symptoms have been mild, and he has been self-isolating and "abiding by all relevant CDC guidelines" in consultation with his doctor, according to the statement.
Symptoms can appear between two and 14 days after exposure to the virus, according to the Centers for Disease Control and Prevention.
Franklin is a frequent guest at the White House.
On Tuesday, the pastor posted photos and videos of himself and his daughter posing with Christmas decorations and a portrait of former President Ronald Reagan at a party inside the White House. Some of the party-goers appeared to be wearing face masks in the post. Franklin was not.
This summer, he attended a White House Rose Garden ceremony, after which several attendees were diagnosed with COVID-19, including University of Notre Dame President the Rev. John I. Jenkins, Harvest Christian Fellowship Pastor Greg Laurie and President Trump. Franklin tested negative after the event.
At the time, Franklin had posted a video on Twitter sharing he'd gotten the test "out of an abundance of caution" because he had met with and prayed for Trump before the event. He encouraged people to pray for all who have "the real disease, the very deadly disease of COVID-19."
Free Chapel also announced Sunday it will move its Christmas Eve candlelight services online because of the rise in COVID-19 cases in the Atlanta area.
"We hope you have a special and meaningful Christmas this year with your family. This will be a Christmas like no other for so many people but Jesus is still the light of the world," said Tracy Page, executive pastor of Free Chapel.
---
This article originally appeared on ReligionNews.com.