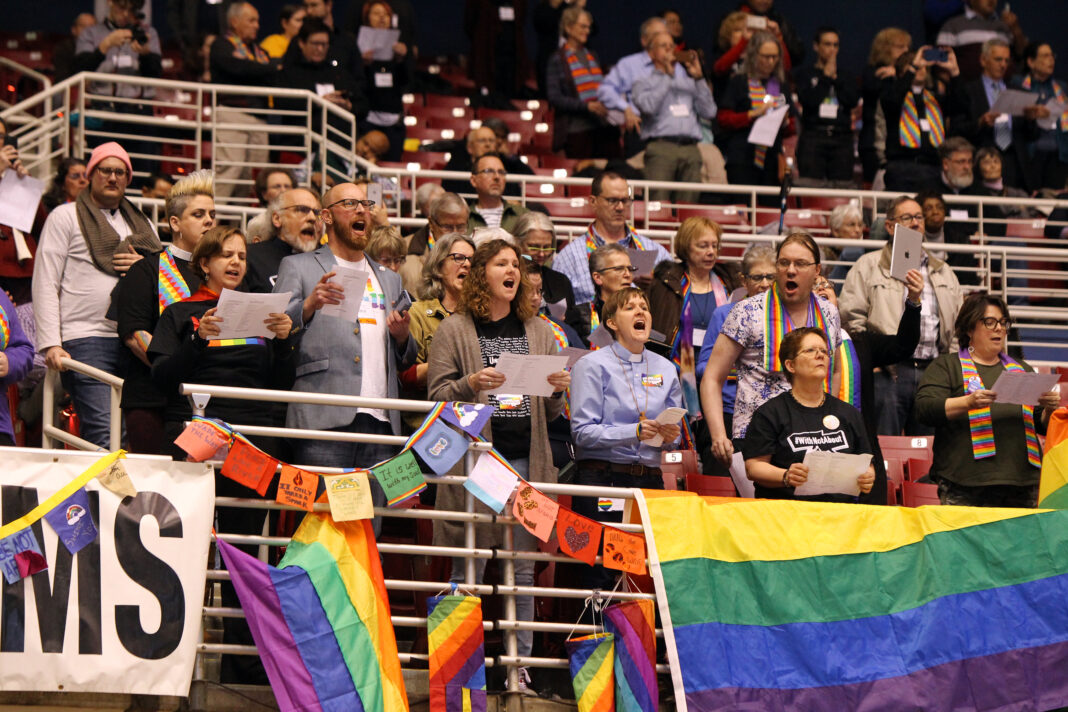 (RNS) — When Asbury Memorial Church in Savannah, Georgia, announced its disaffiliation from the United Methodist Church last year, Asbury said in a press release that it believed it was "the first church in the USA to leave the United Methodist denomination due to its unequal treatment of LGBTQ people."
The church's claim points to the sense of historic justice many United Methodists feel in the denomination's proposed split over LGBTQ issues, awaiting a vote delayed by the COVID-19 pandemic.
But United Methodists' debate over sexuality did not begin with the ban on same-sex marriage and LGBTQ ordination the denomination's global decision-making body reaffirmed at its 2019 special session. It has been a topic at every quadrennial General Conference since 1972, when delegates edited the Book of Discipline to call homosexuality "incompatible with Christian teaching."
And Asbury Memorial isn't the first church to disaffiliate from America's second-largest Protestant denomination over its official stance toward its LGBTQ members. Before the current wave of churches disaffiliating from the United Methodist Church, there was Community of Hope in Tulsa, Oklahoma.
Community of Hope's story begins before its founding pastor, the Rev. Leslie Penrose, 69, had thought much about LGBTQ issues. Or about ministry.
While traveling in Central America in the mid-1980s, Penrose met a gay man who told her he felt a call to ministry he couldn't follow because of his sexuality, she said. His story raised so many questions for her that she enrolled at Phillips Theological Seminary in Tulsa, hoping to find answers.
A semester into her studies, a nurse at a local hospital asked if Penrose would be willing to visit a young man dying of AIDS who was scared and alone.
"Oh, don't even bother. My church has already told me I'm going to hell," the young man told Penrose when she stopped by, she recalled. She told the man she didn't believe that and asked if they could talk.
She ended up visiting him almost every day until he died weeks later, then holding a memorial for him at a park at his friends' request, she said.
After that, Penrose said, "all of a sudden, things just exploded." A doctor working with HIV/AIDS patients invited her to do some chaplaincy work in his office. She talked with them, baptized them, made hospital calls — "anything that would help them be less anxious about what was going on in their life," she said.
Many of them began attending the Memorial Drive United Methodist Church in Tulsa, where she had begun working as associate pastor after her ordination in 1986. There didn't seem to be any other clergy in the area ministering to people with HIV and AIDS, she said.
The first two or three gay men were welcomed, she said, but once they began to fill a whole row of seats during services, "the church got really threatened."
The pastor at the time allegedly sent a letter to one couple telling them they couldn't drink out of the water fountains, go into the kitchen and children's Sunday school classrooms or serve the homeless ministry — "just this brutal, horrible example of what it meant to be the church," Penrose said.
(The former pastor could not be reached for comment, and messages left at Memorial Drive United Methodist Church were not returned.)
In 1993 — with a candle and chalice to their name, and the support of Bishop Dan Solomon, who headed the Oklahoma Conference of the United Methodist Church at the time — Penrose and 16 others started Community of Hope at another United Methodist church in Tulsa, an outreach from the church to "people on the margin." About half of the congregation was LGBTQ, she said, many living with HIV or AIDS.