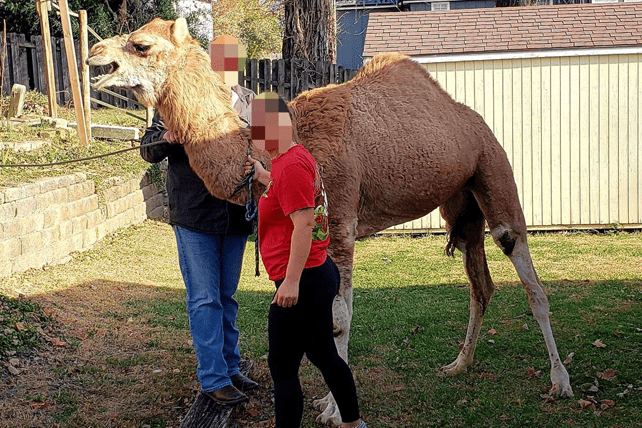 (RNS) — An escaped camel sent police scrambling in a Kansas City suburb this past weekend. The dromedary in question escaped a Nativity scene in Bonner Springs, Kansas. The incident is the latest chapter in the colorful and often chaotic history of camels in the United States.
The animal was part of a drive-thru Nativity scene at the National Agricultural Center and Hall of Fame when its halter broke late Saturday night. Chased soon after on foot, the camel managed to avoid its pursuers.
The next day the animal traversed parts of the K-7 Highway, and despite being spotted by many motorists, it again eluded capture. Images and videos of the animal soon went viral. Police officials suggested on Facebook that the situation could "only be described as a scene out of another cop movie."
At one point Bonner Springs Police Department pursued the camel on golf carts after it strayed onto a golf course. The camel visited several neighborhoods before being cornered and lassoed by an animal control officer. Its owner then arrived to take possession of the nomadic creature.
"The camel was reunited with its owners and will go back to doing camel things," the Bonner Springs Police Department said in a statement posted on Facebook.
This isn't the first time Kansas police officers have had to respond to an escaped camel over the holiday season. In December 2019, police in Goddard, Kansas, reported a traveling animal trio consisting of a camel, a cow and a donkey. Shortly thereafter the camel was reunited with its owners but not before viral photo comparisons to a real-life Nativity scene.
Similar incidents have not always ended so tamely. In 1997, a camel that escaped mid-performance from a Kent Island, Maryland, Nativity pageant was struck and killed by a passing automobile.
A 2010 dress rehearsal for a Nativity play at First Baptist Church in West Palm Beach went awry when a camel slipped and went crashing into the congregation. Neither the camel nor the actor portraying one of the wisemen was injured in the fall, though the camel, known as Lula Bell, was withdrawn from the actual performance "for safety reasons."
Animal rights groups have long complained of the use of live animals in Nativity scenes, but, due to their size, camels have drawn particular concern. A two-humped Bactrian camel can weigh over 2,000 pounds.
"Camels aren't even fully mature until 7 years of age," said PETA in a 2020 statement condemning the use of all live animals in Nativity scenes. "But many are forced into performances well before that. In nature, these gentle, social animals, who softly blow in one another's faces to say hello, would be traveling with their family herds."
The long-legged animals have deep roots in America. Camels closely related to Old World camels and llamas were once native to North America. The last surviving species, known as camelops, went extinct 13,000 years ago.
This article originally appeared here.