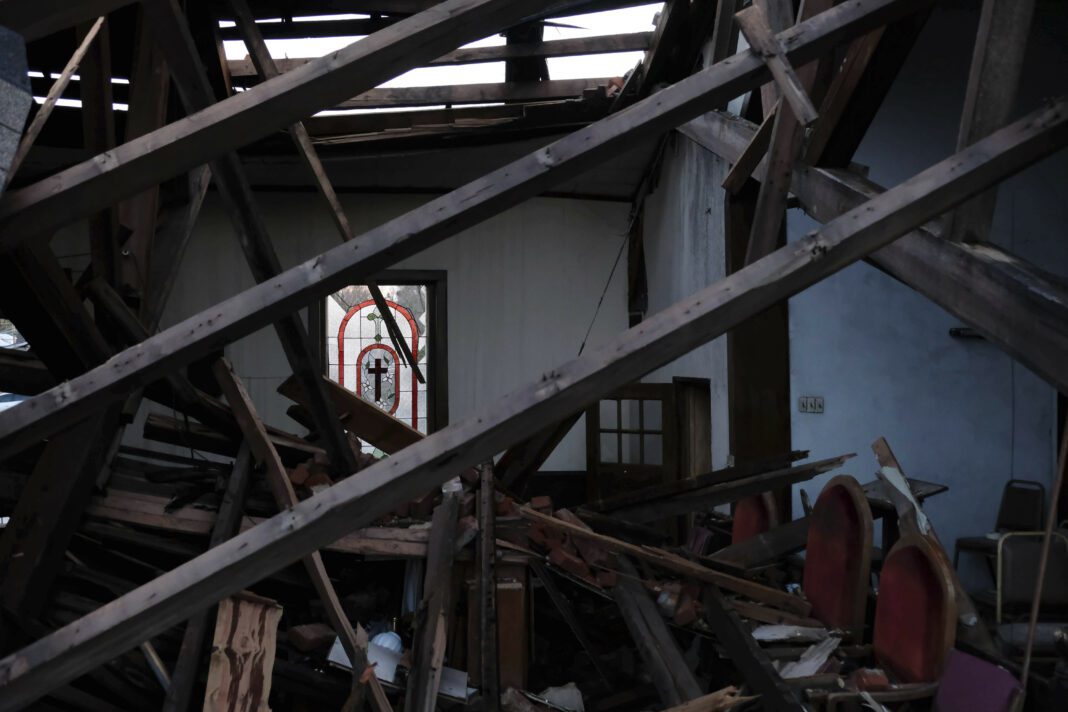 MAYFIELD, Ky. (AP) — Mayfield First United Methodist Church, a century-old temple with stately columns and stained-glass windows, has long been an anchor in the life of Kathy O'Nan, the city's 68-year-old mayor.
She directed the children's choir for 42 years and attended countless worship services and ceremonies, from weddings to funerals to the baptisms of both her children — before a massive tornado tore off the church's roof and covered the front entrance in rubble.
"It was just my home," O'Nan said. "For all of us, it was our home."
First United Methodist is one of a half-dozen historic churches in the central core of this western Kentucky community that were destroyed or heavily damaged, all with roots dating to the 1800s. Most of their sanctuaries were more than 100 years old, constructed when worship spaces tended to be grand with amenities such as giant pipe organs, heavy wooden pews and the now-collapsed dome that once crowned the nearby First Christian Church.
While the rubble is still being cleared, it's already apparent that Mayfield's historic congregations, most with graying, shrinking flocks, are unlikely to rebuild in anything resembling their previous architectural glory. Their leaders say they must instead adapt to meet 21st-century needs and possibilities.
"People at the turn of the last century took great pride in building buildings they thought honored God, and that is no longer the style anymore," said the Rev. Milton West, senior minister at First Christian.
"I think all of the congregations in the downtown area are using this experience to re-envision their ministries … and how they might make a difference in our community," West added. "I think the whole town of Mayfield has an opportunity to reinvigorate itself. There were a lot of empty buildings when the storm hit."
Firefighters say the tornado damaged or destroyed about 1,300 homes, businesses and houses of worship Dec. 10 when it swept through the close-knit town of some 10,000 residents.
Besides First United Methodist and First Christian, the red-brick First Presbyterian Church on Mayfield's main street and Fairview Baptist Church, about a half-mile away, were destroyed as well. First Baptist Church and St. James African Methodist Episcopal Church sustained heavy damage that could take years to repair.
"These churches were a spiritual touchstone for the community," West said.
His First Christian expects to receive at least $5 million from its insurance company. But that's not enough to rebuild like before — replacing just the $800,000 organ and the Steinway piano would account for about one-fifth of the payout, according to the pastor.