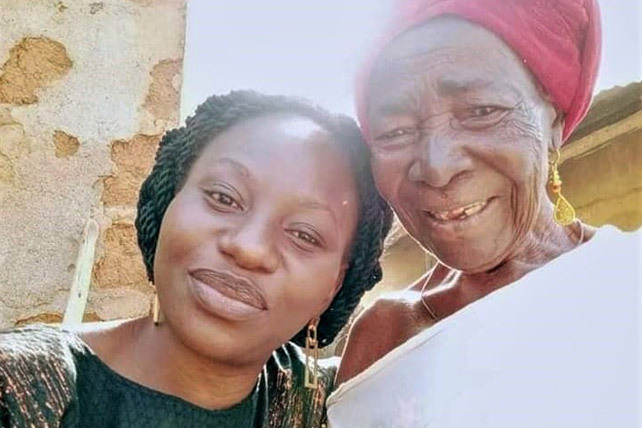 KADUNA, Nigeria (BP) – She was a community matriarch and grandmother to many. But Mama File died in a fire set by militant Islamic extremists in a series of attacks killing at least 48 Christians in Nigeria's Middle Belt.
Her grandson Danjuma Enoch told the story to Morning Star News, recounting the 3 a.m. Sunday, Jan. 30, attack that killed 11 in Kurmin Masara village where File lived.
"Grandma was unable to escape when the attack took place because she was very old and blind," Morning Star News quoted Enoch. "While other people scampered to escape, Grandma stayed back in her room which served as her last (safe) haven.
"Grandma was our surviving grandmother and a great-grandmother to many of our younger ones. We can only imagine how horrible it was for her to breathe her last this way after living long into her old age. Painful and sad."
An unknown number of people were wounded and displaced in the attack on Kurmin Masara village, more than 30 homes were burned and farm produce destroyed, Christian Solidarity Worldwide (CSW) reported. Several eye witnesses and survivors described the attackers as Fulani herdsmen, but government officials who previously described such attackers as "armed bandits" said they were "terrorists" and "non-state actors."
The Jan. 30 attack in southern Kaduna was among a series of attacks in the past month in Kaduna and Plateau states that together killed at least 48 people, kidnapped some, displaced others and destroyed homes, according to reports from CSW and Morning Star.
Most recently, CSW reported a series of attacks spanning Feb. 1-3 that killed at least 14 people in southern Kaduna, including an attack Feb. 3 in the Kaura local government area that killed 11, an attack Feb. 3 that killed one and kidnapped others in the Igabi local government area, and attacks Feb. 1 that killed two people and injured others elsewhere in Kaura. The Feb. 1 attacks occurred when local leaders and Fulani representatives were attending a peace meeting, CSW said, referencing local reports.
"Our villages are being sacked one after the other," CSW quoted a source who was not named in the report. "There is a mobilization against us … and the nation is at ease. Anytime we raise our voices, we also become targets."
In Plateau, suspected Fulani herdsmen killed 18 Christians Jan. 22 after killing four on Jan. 11, Morning Star reported. Ten other Christians were wounded in Plateau.
Davidson Malison, whom Morning Star identified as a representative of the mostly Christian Irigwe ethnic group, said at least six of those killed in Plateau were children.
"The (Irigwe) ethnic nationality has been visited by yet another deadly and lethal attack by Fulani terrorists … in the early hours of 12 midnight of Jan. 11 in Ancha village," Morning Star quoted Malison. "The attack, which lasted for over two hours undistracted and unchecked, led to the killing of 18 Christians, with six other Christians injured, while over 24 households with over 100 residential rooms were razed down."