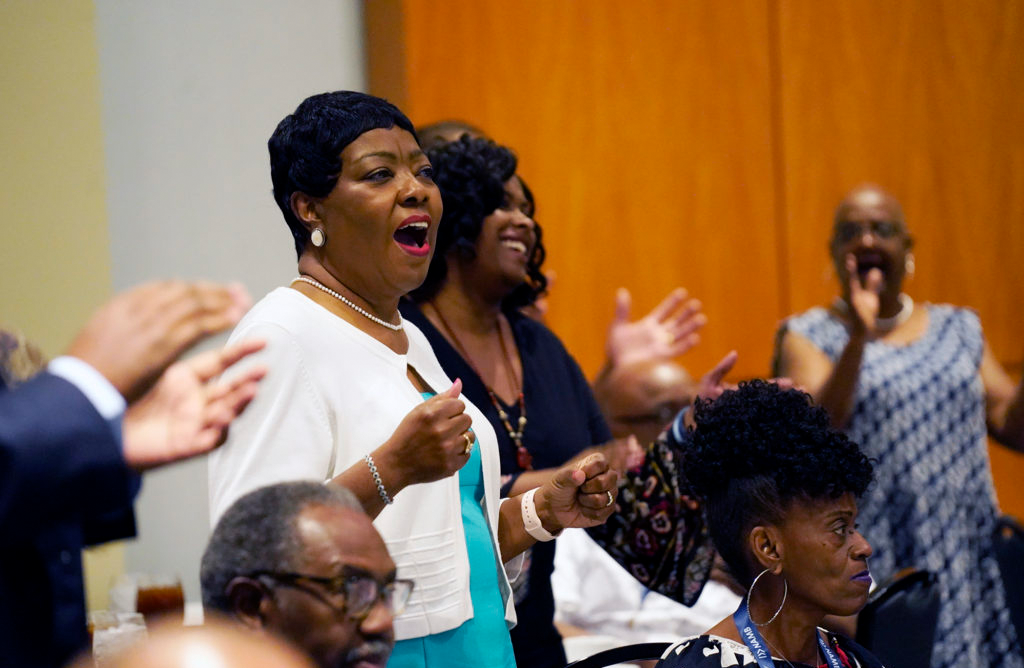 NASHVILLE (BP) – Alameda County, Calif., across the bay from San Francisco and including cities such as Oakland and Berkeley, probably wouldn't be the first location Southern Baptists associate with a sign of the Convention's future.
However, it contains 127 Southern Baptist congregations. That's more than any county in Mississippi, Arkansas, Missouri or Louisiana. Oklahoma, Alabama and Georgia each have only one county numbering more. Another notable distinction for Alameda County – 44 of those congregations are African American, followed closely by 42 that are Asian American. Anglo congregations are a distant third at 24.
That's not all. Five other California counties have more churches than Alameda – Los Angeles (593), San Diego (203), Orange (163), San Bernardino (133) and Riverside (133).
Those findings and much more can be discovered at the GCRM Ethnic Research Portal, unveiled to state convention leaders last week at their annual meeting. Accessing the information is free upon registering with the site.
Spearheaded by the SBC Great Commission Relations and Mobilization team, the initiative is a shared data collaboration of the Southern Baptist Research Fellowship and all six SBC seminaries as well as the Ethics & Religious Liberty Commission, GuideStone Financial Resources, the North American Mission Board, the International Mission Board, Lifeway Christian Resources and the SBC Executive Committee.
Although the SBC remains a largely Anglo Convention, trends over the last 20 years are impossible to deny when considering the future. From 2000-2010, sizeable increases in the number of congregations occurred among Hispanics (53.1 percent), African Americans (52.2 percent), Other Ethnics (49.3 percent) and Asian Americans (37.5 percent) while Anglo congregations grew by only 3.7 percent. Growth continued over the next 10 years, if at a slower pace, with Other Ethnic congregations growing by 33.2 percent, Asian American by 20.7 percent and African American by 10.2 percent. The number of White Anglo congregations decreased by 3.3 percent.
Furthermore, membership of ethnic minority groups increased by 1 million from 1990-2019 while Anglo groups decreased by the same amount. In that time span, 8 in 10 new SBC congregations were primarily made up of an ethnic minority.
'A Timely and Needed Resource'
The research tool is open to anyone and was designed to benefit the local church, said Minh Ha Nguyen, who has served as manager for Global Research at the IMB for more than 22 years.
"The GCRM Ethnic Research Portal helps churches know their community well, pray for unreached people groups in their city and build Great Commission relationships with other ethnic and language congregations in the SBC," he said. "It allows local churches to get to know other Southern Baptists who speak different languages and build relationships across the cultural boundaries."
Those tools can prove vital for churches, said Willie McLaurin. In December 2019, McLaurin was named vice president for Great Commission Relations and Mobilization at the SBC Executive Committee and most recently became the first African American to serve as CEO of a Southern Baptist entity upon being named interim EC president.
"I am incredibly thankful for the leadership of Minh Ha Nguyen and the Southern Baptist Research Fellowship for this grass roots resource," he said. "The Collaborative Partnership of the Ethnic Research Network provides a timely and needed resource for the Southern Baptist Convention.
"The online platform provides a simple and easily accessible resource that will assist us in identifying, enlisting and expanding the ethnic footprint in our mission field. The portal developed by Southern Baptist mission-minded researchers will have an immediate and valuable impact on reaching the nations and the neighborhoods.