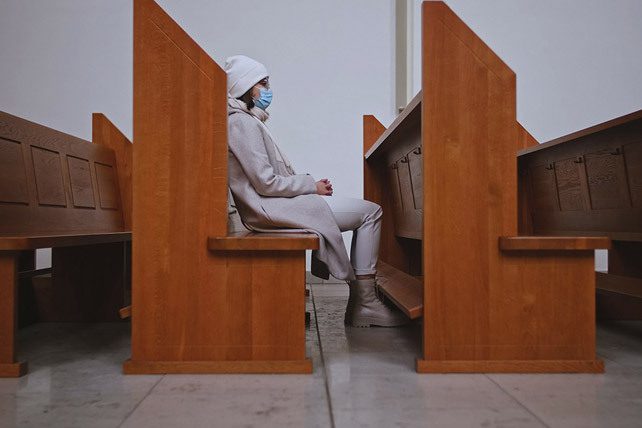 Compared to the beginning of 2021, more U.S. Protestant churches are gathering in person and more churchgoers are filling the pews. The return to pre-pandemic attendance levels has stalled, however, in recent months.
The latest Lifeway Research study found, despite a new variant wave of COVID-19, 97% of U.S. Protestant churches met in person during January 2022, while 3% say they did not gather for in-person services.
The percentage of churches meeting in person is statistically unchanged from an August 2021 Lifeway Research study, when 98% of churches physically gathered, but is up significantly from the 76% that met in January 2021.
"Almost all churches are able to meet in person for worship, though a few are struggling to re-open their doors," said Scott McConnell, executive director of Lifeway Research. "Many more churches are working to restart all their important ministries and continuing to encourage people to resume in-person participation."
More than 1 in 5 U.S. Protestant pastors (22%) say their church is close to their January 2020 attendance, with 10% saying they are at 90% to 100% of pre-pandemic levels and 12% reporting attendance is now higher than before COVID-19. The same percentage of pastors (22%) reported crowds reaching at least 90% of their pre-pandemic attendance in August 2021. In January 2021, however, only 8% of churches had such levels.
Compared to January 2021, far fewer churches today have crowds of less than half of what they had in January 2020. At the beginning of last year, 31% of churches were at less than 50% of their pre-pandemic attendance levels, including 8% of churches that were below 30%. Now, 14% are below 50% attendance, and only 1% still say their congregation is less than 30% of what it was before COVID-19.
More than 8 in 10 churches have an attendance of at least half of what it was prior to the pandemic. The average U.S. Protestant church reports attendance at 74% of what it was prior to COVID-19, which means 1 in 4 pre-pandemic churchgoers are still missing from in-person worship services.
"People's return to in-person worship services has stalled," said McConnell. "There has been virtually no change in average attendance since August 2021. Some of this is the direct impact of COVID with people getting sick, needing to quarantine or being at high risk. But this also likely includes healthy individuals choosing to not return."
The smallest churches, those with attendance less than 50 before COVID-19, are the most likely to be back at pre-pandemic levels. More than a third of those small churches (37%) report their attendance is at least 90% of what it was in January 2020, including 18% who say they have grown numerically during the pandemic.
Online Transitions
Most churches shifted to some type of online video services during the height of the pandemic. Now, many are asking those watching online to participate in person.
In January 2022, more than 9 in 10 U.S. Protestant pastors (94%) say their churches provided some type of video content for their congregations, including 84% who livestreamed their worship services and 10% who posted a video of the sermon later. Prior to the pandemic, Lifeway Research found 2 in 5 churches said they neither livestreamed their service nor posted the sermon online later.