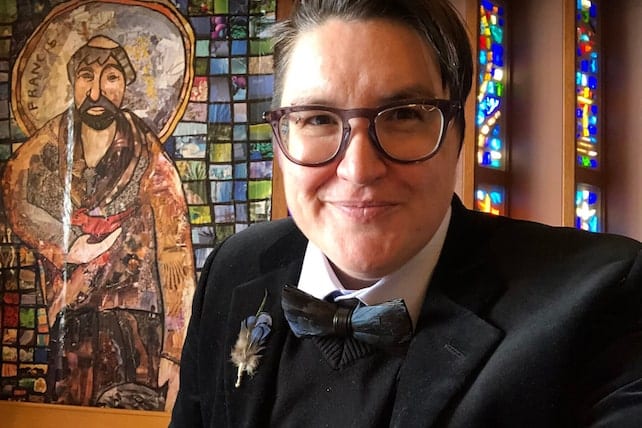 rai(RNS) — The presiding bishop of the largest Lutheran denomination in the United States has asked its first transgender bishop to resign amid criticism over the bishop's removal of the pastor of a Hispanic congregation on the Feast of Our Lady of Guadalupe in December.
RELATED: As the Feast of Our Lady of Guadalupe approaches, the Virgin Mary inspires community
In a report to the church published Friday (May 27), Bishop Elizabeth Eaton, head of the Evangelical Lutheran Church in America, announced she had requested Bishop Megan Rohrer's resignation from the denomination's Sierra Pacific Synod.
Eaton's request comes after the Sierra Pacific Synod removed the Rev. Nelson Rabell-González from his position as mission director at Misión Latina Luterana in Stockton, California, on Dec. 12. The Feast of Our Lady of Guadalupe — when many Mexican Americans celebrate their religious and cultural identities — commemorates the day in 1531 when many Christians, particularly Catholics, believe the Virgin Mary appeared in Mexico to an Indigenous man named Juan Diego.
In a previous statement on the Sierra Pacific Synod's blog, the synod council said it had unanimously decided to vacate Rabell-González's call after "continual communications of verbal harassment and retaliatory actions from more than a dozen victims from 2019 to the present." Rabell-González denied those accusations to Religion News Service.
But Rohrer's actions were criticized by the Asociación de Ministerios Latinos de la ELCA as showing a "lack of empathy and understanding toward their Latinx siblings" and led Eaton to appoint a listening team to review what had happened.
The presiding bishop said Friday she does not plan to pursue disciplinary charges against Rohrer — a decision the Asociación de Ministerios Latinos de la ELCA and several partner organizations also criticized.
"I do not believe that the circumstances of these unfortunate events and Bishop Rohrer's involvement in them rise to the level of formal discipline against Bishop Rohrer," Eaton said.
"However, I believe that Bishop Rohrer has lost the trust and confidence of many constituents, both within and without the Sierra Pacific Synod."
"Unwise decisions" are not automatic grounds for discipline in the denomination, according to the presiding bishop's statement. But, she said, she has asked Rohrer to respond after attending the Sierra Pacific's synod assembly next week, listening to Rohrer's constituents and prayerfully considering her request to resign.
In a statement published Saturday, the Asociación de Ministerios Latinos de la ELCA, the European Descent Lutheran Association for Racial Justice and Extraordinary Lutheran Ministries called Eaton's decision not to pursue disciplinary charges against Rohrer a "culturally insensitive dereliction of duty."