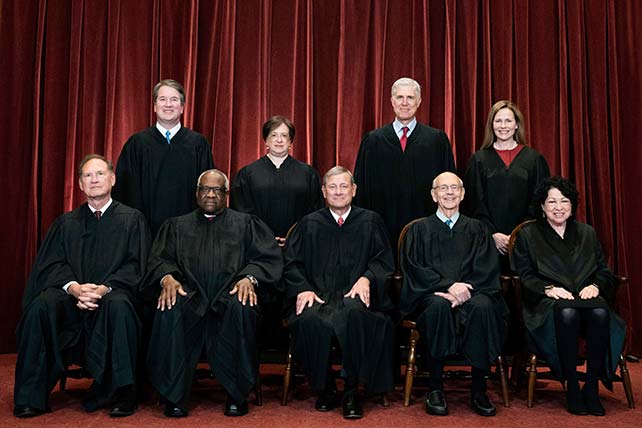 WASHINGTON (BP)—The U.S. Supreme Court delivered deeply consequential victories for the sanctity of human life and religious freedom in its just-completed term, advocates for both causes said in assessing the justices' work.
The justices issued their final opinions Thursday (June 30) to close a 2021-22 term in which they eliminated near the end two high court standards from five decades ago that were long opposed by pro-life and/or many religious liberty advocates.
On June 24, the Supreme Court overruled the 1973 Roe v. Wade decision that largely controlled its decision-making on the issue and ushered in an abortion regime that produced a death toll estimated at more than 63 million preborn babies. The justices also reinforced during the term their recent pattern of rulings that safeguard both free exercise of religion and equal access to public benefits for faith-based organizations. They crowned a series of such opinions with a June 27 decision in which they all made clear the court's test regarding government establishment of religion instituted in a 1971 case was dead.
"The opinions the justices released in this Supreme Court term demonstrated a commitment to protecting our foundational, Constitutional rights to free speech and free exercise," Southern Baptist public policy specialist Chelsea Sobolik told Baptist Press. "Additionally, they handed down a landmark pro-life decision that allows states the ability to take steps that will end abortion — a monumental decision that countless Christians have fervently prayed for.
RELATED: BREAKING: Supreme Court Overturns Roe

"As this term wraps up, more Americans will now be able to legally protect the preborn, and we all will be able to continue faithfully living out our individual faith in the public square," said Sobolik, director of public policy for the Ethics & Religious Liberty Commission (ERLC), in written comments.
The high court should receive "at least a 95 percent," said Kevin Theriot, senior counsel for Alliance Defending Freedom (ADF), when asked what grade he would give the justices for the term on such issues as abortion and religious liberty.
If "extra credit" is given, the justices deserve it "for taking on issues that are controversial and that courts in the past have been reluctant to take up and  . . .  for fixing long problems that have been around for 50 years," Theriot told BP in a phone interview.
The term's close brought about an official change of justices on the high court. Ketanji Brown Jackson was sworn in Thursday after the high court issued its final two opinions of the term and Associate Justice Stephen Breyer's retirement became effective. Jackson, who received Senate confirmation in April, became the first African-American woman to serve on the court.