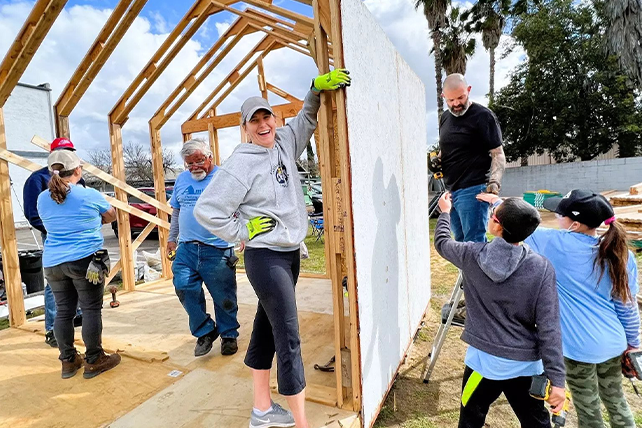 EL CAJON, Calif. (BP) – He only grunted — the homeless man who frequented Meridian Baptist Church's weekly community meal in the fellowship hall.
"Every Wednesday night when he came, I would look, see him, and I would get my plate and go sit down next to him, say hello and talk to the other people at the table," Senior Pastor Rolland Slade told Baptist Press. "But he wouldn't talk. He didn't speak to me. He acknowledged that I was there, kind of grunting. He did that for three months."
Slade recalls when the man greeted him in return. "I was shocked. He said, 'Good evening.' After that, he said, 'Pastor, I'm tired. I'm just tired of being on the street. It's almost been three years.' And he said, 'I'm just tired and I just need help.'"
The man's experience gives a glimpse into the lives of homeless people, a segment of the population that will benefit from Meridian Village, a pilot housing program under construction behind Meridian Baptist Church. In partnership with the nonprofit housing advocacy group Amikas, the city of El Cajon and social service agency Home Start of San Diego County, Meridian is hosting the pilot project that runs through December 2023 and will serve homeless single mothers and their children.
Women and children selected to participate will have secure lodging for up to 90 days, undergo an assessment and be connected with the services they need, including transitional or permanent housing.
"Our role in all of this – and not being the social service provider – our role is really to love them and to nurture them," Slade said. "The Village is kind of a community within the community. It's physically there on the church property. It will be separated by a fence, but we also will have our regular church activities.
"Our Sunday services, our Wednesday Bible studies, our food distribution, our Wednesday night community dinner, all of that, they will be invited to participate in. It will not be mandatory, but the thought is as we love them and care for them and build a relationship with them, they'll want to be a part of what we're doing at the church."
Amikas has worked five years to establish the pilot program, securing permission in 2019 to build an unoccupied cabin behind Meridian Baptist in 2019. It took until 2021 to get permission to build six additional units, each measuring 12×12 feet with a front porch and 96 square feet of living space. Volunteers began construction in February. Electrical lines will be laid to serve the units, and residents will use plumbing facilities at the church.
Six units will house residents, with the seventh unit housing social service workers during the day and security at night.
Amikas treasurer Lisa Krogen told NBC San Diego of the lengthy journey to getting the program approved, expressing "a lot of highs and lows where we thought we had property and then we didn't have property, trying to work with the city. There was just a lot going on, and there were times where we felt like it was never going to happen."
Krogen hopes the project will inspire similar outreaches in other cities across the nation, a hope Slade has also expressed.
San Diego county's homeless number about 8,500, according to the 2022 Point In Time Count by the San Diego Regional Task Force on Homelessness. El Cajon has the highest homeless statistics in the county, Slade said.