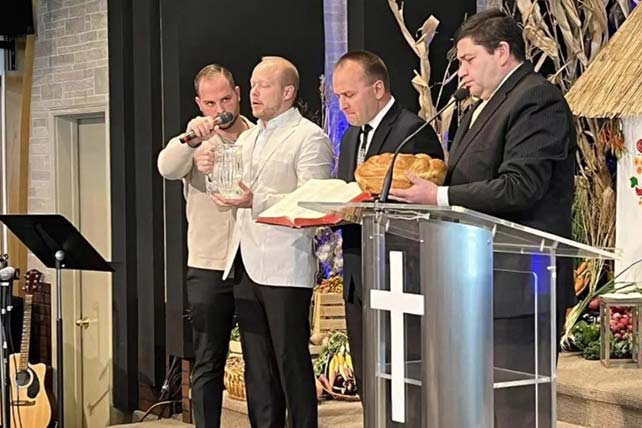 MINNEAPOLIS (BP) — "Praise God, He left me my right leg," Ukrainian soldier Stanislav exclaimed at First Ukrainian Evangelical Baptist Church in Minneapolis during the church's annual harvest celebration of thanksgiving.
Stanislav lost his left leg in battle protecting Ukraine from a Russian attack. With his right leg intact, he transitioned to volunteer status, driving Ukrainian civilians to safety and delivering supplies to those in need.
Stanislav is in Minnesota receiving a prosthetic and counseling through the Protez Foundation's Prosthetics for Ukraine humanitarian outreach the church supports. He shared his story with Victor Soro, a First Ukrainian Evangelical Baptist Church bilingual pastor.
"He was a full-time soldier until his injury, and now he works as a volunteer," Soro told Baptist Press. "I think his exact words were, 'Praise God, He left me my right leg,' which is what he drives with, so he's able to do that. And hopefully with this prosthetic, (he'll) be able to do even better. He'll be more physically able to help."
RELATED: Baptist Pastor and Wife Kidnapped in Ukraine
Protez has provided prosthetics for 14 Ukrainians injured in the war, the foundation said on Facebook. Stanislav was one of at least three prosthesis recipients who attended the harvest festival, including two civilian children who lost limbs and were accompanied by family members.
The war is very personal to First Ukrainian Evangelical Baptist Church, a Southern Baptist congregation of about 150 members, Soro said.
"Obviously our people are Ukrainian and the war in Ukraine is really personal," Soro said. "And just to honor those soldiers that are fighting over there when we can't do that living over here, it means a lot to us, their sacrifice, their service in the military over there."
Leo Endel, executive director of the Minnesota-Wisconsin Baptist Convention (MWBC), was among the speakers at the event, assisted by interpreter Alexander Fartushniy. First Ukrainian Evangelical Baptist Church is among 200 MWBC churches.
"I have known the Ukrainian pastors for a number of years, but the war in Ukraine has given us the opportunity to partner at a deeper level as they minister to refugees and wounded soldiers here in Minnesota," Endel told Baptist Press. "I asked NAMB to partner with the MWBC and together we helped two of these churches with funding to care for, and to share the Gospel with, those refugees who have come to Minneapolis.
RELATED: 'About 400' Baptist Churches Lost in Russia's War on Ukraine
"Moments like these are where we see the power of Southern Baptists working together," Endel said. "The MWBC is a microcosm of the world. We have been enriched to join a number of these people groups as they have engaged in missions in their former homelands."
First Ukrainian Evangelical Baptist Church is supporting the Protez Foundation by housing soldiers, and providing food, transportation and other services. Additionally, the church sends financial support to Baptist churches preserving ministry in Ukraine during the war. Many of the churches the congregation supports are the former membership churches of the Minnesota congregants.
"We're still affiliated with a lot of the churches," he said. "Most of our members have come from Ukraine. They're immigrants, directly from over there. They're getting letters or communication from churches they were members of when they were still over there, so we're getting very good word-of-mouth of what the churches are doing, what they might need help for. And so we work with those churches mostly where our members have come from."