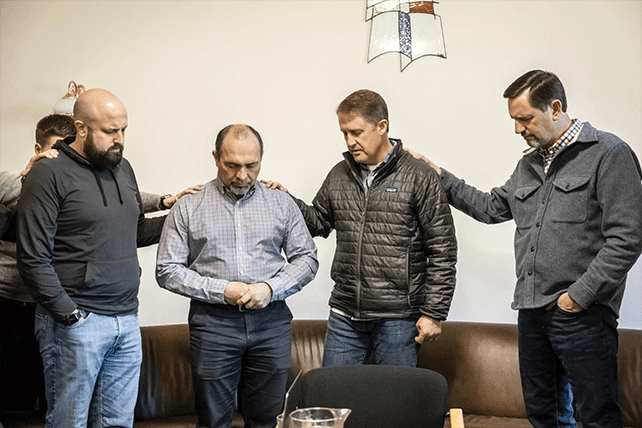 LVIV, Ukraine (BP) – Russia's increased attacks across Ukraine forced the Ukrainian Baptist Theological Seminary to hold classes in basement bomb shelters, UBTS President Yaroslav Pyzh said in a new video.
"Several days of our session, our students went in bomb shelter. We are lucky that we have basement and we are lucky that our building allows us to have sessions even when we have a raid siren," Pyzh said in the video. "Russia is escalating conflict and bombing Ukraine all over the places."
UBTS, with a pre-war enrollment of about 1,300 students in all class levels, enrolled 450 new incoming students in fall sessions, Pyzh said, thanking supporters whose generosity has allowed UBTS to continue serving the battered nation.
Southern Baptist giving through the Cooperative Program, which supports the infrastructure of the International Mission Board and Send Relief, continues to allow direct donations to make their way to where they are needed most.
Donations through Send Relief, the Southern Baptist compassion ministry, and monthly donations from numerous Southern Baptist churches continue to aid UBTS, allowing the school to waive tuition through the war, participate in humanitarian aid and support rebuilding efforts.
Southern Baptists also continue to support those who have fled the war, including refugees in eastern Europe and elsewhere, including the U.S.
Send Relief Vice President of International Ministry Jason Cox commended Southern Baptists for their continued support, sharing updated numbers that encompass about 40 percent of Southern Baptist work done to date to help refugees fleeing the war, the North American Mission Board told Baptist Press Oct. 17.
"Through our IMB (International Mission Board) missionaries and these Baptist partners, Send Relief has, so far, been able to facilitate 72 relief projects in 19 countries," Cox said. "We've received reports from 27 completed projects, with others still ongoing, that already, 600,000 people have been impacted."
More than 1,100 people have professed faith in Christ through the work, Cox said.
"Southern Baptists have made this possible through an incredible outpouring of generosity. To date, more than $12 million has been given towards the Ukraine crisis through Send Relief and IMB," Cox said. "This is in addition to the ongoing support of Southern Baptists through the Cooperative Program, without which we would not have Send Relief and IMB personnel on the ground in the first place to respond to crises like these."
Send Relief President Bryant Wright also commended Southern Baptists for their continued support.
"The response from Baptists on both sides of the world to the Ukraine crisis has been inspiring," Wright told Baptist Press. "From the beginning of the war until now, Baptist churches, conventions and seminaries in Ukraine and in surrounding nations have led out in welcoming and caring for displaced Ukrainians in the name of Jesus.