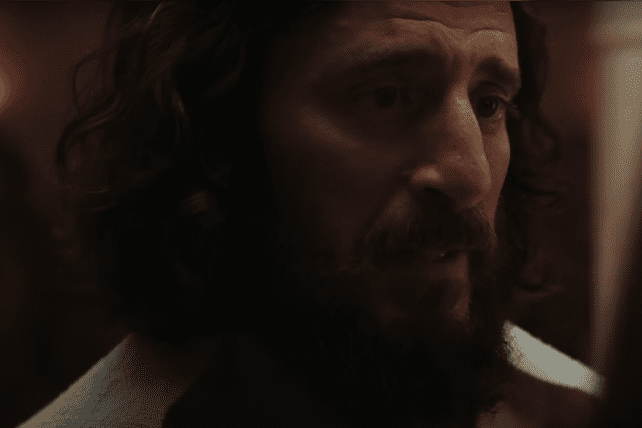 Earlier this week, "The Chosen," a series that dramatizes the life and ministry of Jesus Christ, released a trailer for its upcoming third season. Lauded among many evangelicals, production of "The Chosen" is entirely crowdfunded, and the show's creators hope that it eventually reaches 1 billion viewers in every country of the world. 
Nevertheless, the show has come under fire following the release of its Season 3 trailer, wherein Jesus can be seen delivering a line that appears to be a paraphrase of a verse from the Book of Mormon. 
In the trailer, Jesus can be seen in a confrontation with a Jewish religious official. 
"Jesus, if you do not renounce your words, we will have no choice but to follow the law of Moses," the man says, implying that the Sanhedrin would pursue Jesus' execution.
Jesus steps toward the man and replies, "I am the law of Moses." 
Following the release of the trailer, the show posted a GIF of the moment to Facebook, captioning the post, "Mic drop."
However, a number of social media users were quick to point out that the line delivered by Jonathan Roumie, who portrays Jesus in the series, sounded similar not to a verse from the New Testament but 3 Nephi 15:9 in the Book of Mormon.
RELATED: 'The Chosen' Uproar: 'We're Not Produced by Mormons'; Seminary Professor Warns People Not to Watch
Reference to The Book of Mormon
"Behold, I am the law, and the light. Look unto me, and endure to the end, and ye shall live; for unto him that endureth to the end will I give eternal life," the verse reads. 
Pointing out the similarity, one Twitter user said, "I never took a hard position against the Chosen until now. It is compromised and in heresy."
"This isn't one of those 'Jesus could've said/done this' types of things, this is a direct bowing to Mormon theology (Mormons put a lot into the series) which is against Biblical Christianity. Jesus fulfills the law and as God gave it, but He is not the law," he went on to say. "Beware this."
Another said, "It would be disingenuous to assume that Mormon theology has no impact" on the series. 
"Stop watching The Chosen," someone else urged. "Read your Bible instead."
Concerns about the show's connections to LDS theology have been ongoing, as "The Chosen" is distributed by Angel Studios, which was co-founded by brothers Neal and Jeffrey Harmon, both of whom belong to The Church of Jesus Christ of Latter-Day Saints (LDS). 
RELATED: 'The Chosen' Director Responds to Billboard Backlash: 'I Was Wrong and I Want To Genuinely Ask For Your Forgiveness'
Earlier this year, Dallas Jenkins, who created and directs the show, also serving as one of its writers and executive producers, addressed speculation that the show was influenced by LDS teachings.