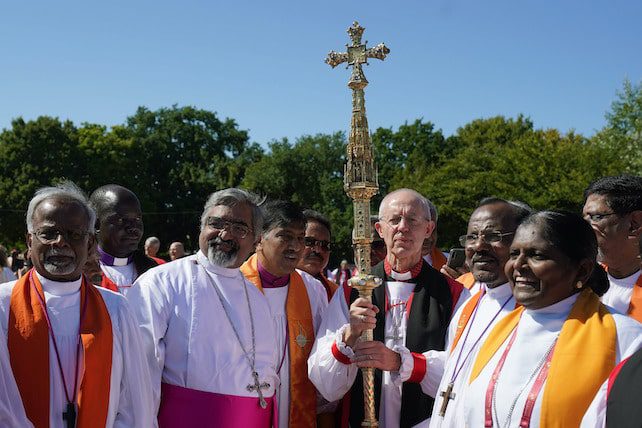 Friction has long-simmered within the global Anglican Communion over its 42 provinces' sharp differences on whether to recognize same-sex marriage and ordain LGBTQ clergy. The divisions widened this year as conservative bishops affirmed their opposition to LGBTQ inclusion and demanded "repentance" by provinces with inclusive policies.
Caught in the middle is the archbishop of Canterbury, Justin Welby, who is the Church of England's top bishop and the Anglican Communion's ceremonial leader. He has acknowledged the provinces' "deep disagreement," while urging them to "walk together" to the extent possible.
The divide came into the spotlight four months ago at the communion's Lambeth Conference, which brings together bishops from the more than 165 countries with Anglican-affiliated churches. It was the first Lambeth Conference to which married gay and lesbian bishops were invited.
The conservative primates of Nigeria, Rwanda and Uganda refused to attend, while other bishops who share their opposition pushed unsuccessfully for the gathering to reconfirm a 1998 resolution rejecting same-sex marriage.
Now those primates, and their allies worldwide, are looking to an April conference in Kigali, Rwanda. They're expected to discuss their dismay at some Anglican churches' support for same-sex marriage and Welby's approach.
Welby says neither he nor the Lambeth Conference has the authority to discipline provinces or impose demands.
In Nigeria, Anglican leaders say a formal separation from the global church is more likely than ever. They cite Welby's Lambeth comments and the appointment of the Very Rev. David Monteith – who has been in a same-sex civil partnership since 2008 – as the Canterbury cathedral's new dean.
Bishop Williams Aladekugbe of Nigeria's Ibadan North Anglican Diocese said "we cannot continue to fellowship" with provinces that recognize "ungodly and devilish" same-sex unions.
"If they don't worship God the way we worship him, if they don't believe in what we believe in… let us divide (and) we go our own way," Aladekugbe told The Associated Press.
The conservative bishops' umbrella group is the Global South Fellowship of Anglican Churches (GFSA). Its steering committee is headed by South Sudan Archbishop Justin Badi, and includes archbishops from Bangladesh, Chile, Congo, Egypt, the Indian Ocean region and Myanmar.
At Lambeth, the committee issued a stern communique – in effect demanding their LGBTQ views hold sway throughout the Anglican Communion and the "revisionist" provinces be disciplined or marginalized.