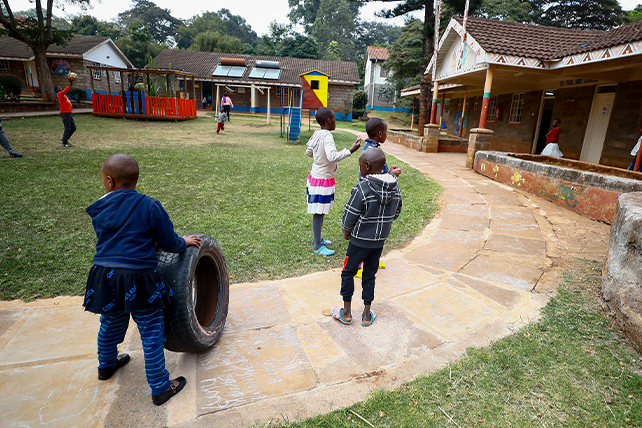 NAIROBI, Kenya (RNS) — African church leaders have sent a letter to the U.S. Congress urging them to reauthorize one of President George W. Bush's signature achievements, the President's Emergency Plan for AIDS Relief, known as PEPFAR, which expires Sept. 30. The program, passed in 2003, has afforded significant gains toward an HIV/AIDS-free generation on the continent, helping save more than 20 million lives, according to the leaders.
"PEPFAR has been a lifesaving, pro-life program that has succeeded in protecting our families and children beyond our greatest expectations. It has been an answer to prayer," said the leaders in the letter.
"We ask you to reauthorize PEPFAR in order to consolidate the gains so far achieved, and continue progress toward a generation free from HIV/AIDS."
The leaders are writing in response to a letter sent to Congress in June by religious groups and legislators asserting that the funds for the program were financing family planning and reproductive health programs, including abortion.
The June letter, titled "PEPFAR and African Values," cautioned against reauthorization without assurances that the program will remain true to its original mission and respect the norms, traditions and values of the country.
Local pastors in Kenya bore witness to the success of PEPFAR. "People in my community have benefited in a big way. They have been able to access medicines and treatment," Pastor Nyabuto Marube of the Evangelical Church of Christ told Religion News Service.
The Rev. Pauline Wanjiru Njiru, an Anglican priest who works on HIV and AIDS prevention in Eastern Africa, said, "It is important for the funding to continue to help complete projects that are already started."
Of the claims that PEPFAR is used to promote abortion, Marube said, "It's all unfounded. We have never heard or seen the fund being used for abortion programs."
Reauthorization for the program, which requires a vote in Congress every five years, has occasionally been attacked by those who want it to focus on education and abstinence from sex to prevent the transmission of HIV, but over its 21-year existence, new funding has passed with bipartisan support.
But in May the conservative U.S. think tank Heritage Foundation released a report recommending the program be restructured as a development program that would shift more funding to local health providers. It also called PEPFAR an "entirely Democratic-run program" that made abortion and LGBTQ issues a priority.
U.S. Rep. Chris Smith of New Jersey, chair of the House Foreign Affairs subcommittee, has echoed some of the report's findings and demanded that any new funding come with language barring groups that promote abortion rights.
In July, the U.S. Conference of Catholic Bishops also issued a letter calling PEPFAR's distribution of condoms inconsistent with Catholic teaching.