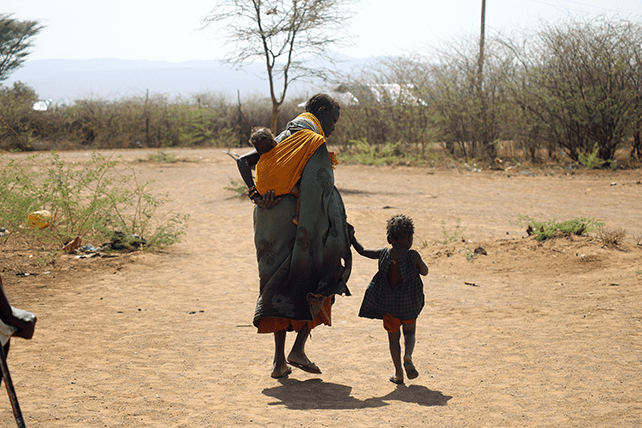 MALAKAL, South Sudan (RNS) — Sitting outside her tent with her children at the Internally Displaced Peoples camp in this northeastern town of South Sudan, Magaret Dut Wol described through tears how her family had not eaten for days and was about to die from hunger.
"There's no food for South Sudanese refugees returning from Sudan due to the ongoing civil war," said the 45-year-old mother of four, revealing that most families returning home from Sudan go for days without food. "I am always worried about food because since I came in July, I have lost a baby to malnutrition. She was very sick."
Wol and her family had fled South Sudan in 2014 after the country broke into civil war in December 2013, primarily fueled by ethnic divisions, with soldiers loyal to President Salva Kiir battling those loyal to Vice President Riek Machar.
The South Sudanese civil war, which ended with a 2018 peace agreement that brought Kiir and Machar together in a government of national unity, left nearly 400,000 people dead and over 4 million displaced from their homes, including almost 2.3 million who fled to neighboring countries, including Sudan.
But now a civil war in Sudan that began on April 15, 2023, between the Sudanese Armed Forces and the paramilitary Rapid Support Forces has forced more than 100,000 to flee the country. More than 90% of them are South Sudanese refugees who are once again escaping a civil war — this time to go back home.
"We escaped Sudan with nothing, and we have nothing here. We are going to die if any help doesn't come our way. People should think about those refugees returning home from Sudan and help them to start life again," Wol said.
Over 67,000 South Sudanese refugees returning home to escape the violence in Sudan are being settled into already congested camps in northern South Sudan. The refugees lack necessities such as food, water, shelter, clothes, bedding, sanitation and health care. The country has not recovered from the widespread destruction caused by its civil war and, for most of the returning refugees, there is no home to come back to.
The situation has prompted religious leaders in South Sudan to appeal to the international community to aid returning refugees, as well as Sudanese fleeing the bloodshed in their country that has left thousands of people dead and millions displaced.
Archbishop Stephen Ameyu of the Catholic Archdiocese of Juba told Religion News Service that the conflict in Sudan left most citizens and South Sudanese refugees with nothing as they fled to escape the civil war.
"The situation on the border town of Renk and northern South Sudan is getting worse every day as refugees continue to cross the border from Sudan and enter South Sudan," said Ameyu. "Refugees and returnees, especially women and children, are tired, hungry and very weak. Most of them have not eaten anything because they have nothing, and we don't have enough food to give them.
"I want to appeal to anyone, including the international community, to donate money and basic necessities to help refugees to survive, recover and rebuild their lives. The money contributed will be used to buy basic needs such as food, water and medical care and build shelter for refugees," he said.
The bishop of the Catholic Diocese of Malakal in South Sudan's Upper Nile state, the Rev. Stephen Nyodho Ador Majwok, said the situation was worse in Malakal since most of the new arrivals from Sudan are seeking refuge in the region, which is already grappling with internal displacement.