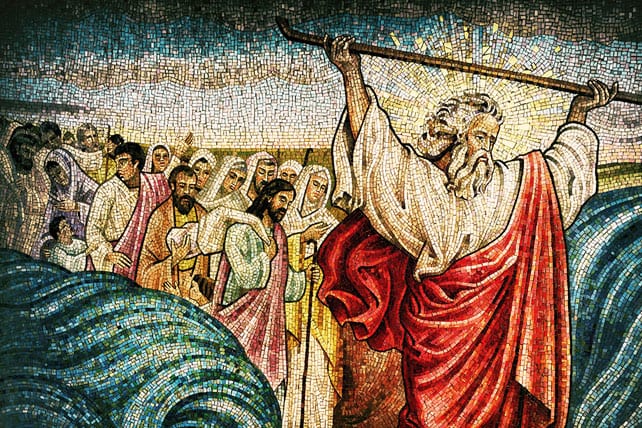 The roots of Christian social justice run deep. In this excerpt from God First for a Better Life, Dr. Colvin Blanford takes us through the biblical foundations, the biblical examples, and the historical actions that affirm Christian social justice in our modern world. 
Biblical Foundations for Christian Social Justice
The theme of Christian social justice is echoed throughout the Bible. This theme is found in many passages in both the Old and the New Testament. In the Old Testament, the Lord God sent Moses to Egypt to be the deliverer of the Jewish people who had been enslaved for more than four hundred years. When Moses went to Egypt, he told Pharaoh, the ruler of Egypt, that the Lord God of the universe said, "Let my people go."
In Isaiah 1:17, the Lord God told His people through the prophet Isaiah to "Seek justice. Correct oppression. Defend the fatherless. Plead for the widow."
In Amos 5:21-24, the Lord God told His people through His prophet that He rejected their empty worship because of their lack of compassion and social justice.
I hate, I despise your religious feasts; I cannot stand your assemblies. Even though you bring me burnt offerings and grain offerings, I will not accept them. Though you bring choice fellowship offerings, I will have no regard for them. Away with the noise of your songs! I will not listen to the music of your harps. But let justice roll on like a river and righteousness like a never-failing stream. (Amos 5:21-24, NIV)
According to Luke 4:18-19, when our Lord Jesus Christ returned to Nazareth he went into the synagogue and proclaimed from the scroll of the prophet Isaiah.
"The Spirit of the Lord is on me, because he has anointed me to preach Good news to the poor. He has sent me to proclaim freedom for the prisoners and recovery of sight for the blind, to release the oppressed, to proclaim the year of the Lord's favor." (NIV)
These and other passages of Scripture remind us that our God is a God of justice and liberation. He is a God of freedom and liberty. He is a God of mercy and compassion. And He expects His people to emulate Him.
Biblical Examples of Social Justice
Many men and women of faith have engaged in efforts to acquire social justice for people who were being denied it. Moses, Isaiah, and Amos were champions for social justice. Moses was God's deliverer of the children of Israel from bondage in Egypt. Isaiah and Amos issued strong pronouncements to the children of Israel regarding their responsibility to be engage in acts of social justice. Jesus, the One anointed by God to be the Savior of the world, at the beginning of His ministry affirmed that He had come to fulfill the prophetic pronouncement of Isaiah to set the captives free.
Historical Actions for Christian Social Justice
As we view the pages of history, we see many men and women (some of our faith and some of other faiths) who have engaged in efforts for social justice.
Because the Revolutionary War was about personal, social, and political freedom those who fought in it (Blacks and Whites) and those who supported it in other ways (Blacks and Whites, men and women) were doing so in order to acquire social justice.
Because the Civil War was about personal, social and political freedom those who fought in it (Blacks and Whites) and those who supported it in other ways (Blacks and Whites, men and women) were doing so in order to achieve social justice.
Over in England, William Wilberforce was joined by his pastor, John Newton (a former slave trader who, after being convicted of the sin of slavery, wrote "Amazing Grace") by Olaudah Equiano (a former slave who became a best-selling author and bought his freedom) and by many others during his twenty-year quest to end the slave trade in the British empire.
Lerone Bennett, in his classic book, Pioneers in Protest, lists many black and white people who have been champions for Christian social justice and racial equality. Bennett describes William Lloyd Garrison as "The apostle of nonviolence … a fiery white editor who shared leadership of the militant abolitionist wing with several Blacks and with radicals, including Wendell Phillips, the Boston blueblood who gave up his place and position and dedicated himself heart and soul to the struggle for black rights." (page 101)
The list of champions for freedom and equality as a part of a total package of social justice must include people such as Frederick Douglass, W.E. B. DuBois, Sojourner Truth, Harriet Tubman, Mary White Ovington, Booker T. Washington, Charles Sumner, and Thaddeus Stevens, as well as people like John Brown and Nat Turner.
Contemporary Actions for Christian Social Justice
When we consider contemporary contributions to the cause of Christian social justice, we must begin with the National Association for the Advancement of Colored People (the N.A.A.C.P), which was founded in 1909 and is the oldest, and possibly the largest, civil rights group in America. Its most ardent champion for most of those years was Thurgood Marshall, who argued landmark cases before the Supreme Court and won almost all of them.
We must also consider the work of other civil rights groups like the Congress of Racial Equality (C.O.R.E.), the Student Nonviolent Coordinating Committee (SNCC), People United to Save Humanity (PUSH), and Common Cause. We also need to consider criminal justice reform groups like Southern Poverty Law Center (SPLC) and restorative justice groups. We're indebted to religious groups like the Southern Christian Leadership Council (SCLC), the African American Christian Clergy Coalition (AACCC), the Arizona Faith Network, Evangelicals for Social Action, Sojourners. the New Poor People's Campaign, and KAIROS The Center for Religions, Rights, and Social Justice.
Prominent individuals who have been champions for social justice include Martin Luther King, Jr., Fannie Lou Hamer, Rosa Park, Diane Nash, John Lewis, Jessie Jackson, Al Sharpton, William Barber, Nelson Mandela, and Barack Obama (who was a community organizer for social justice and racial equality long before he entered the political arena).
When Barack Obama was working with the Gamaliel Foundation in Illinois back in the late eighties and early nineties, one Saturday morning he gave a dynamic presentation at a church in East Chicago, Indiana for a community organization called L.I.F.T. (Lake Interfaith Families Together) of which I was a founding member. The organization was comprised of some 40 Protestant and Catholic churches throughout Lake County Indiana that was formed to address social issues in our communities and throughout the county. Several members of our church were at the meeting along with people from other churches. At the end of his presentation people were heard saying: "That young man is going places!" And, indeed he did!
Conclusion
In his book, Let's Get to Know Each Other, Dr. Tony Evans reminds us that the church also has a social responsibility to the broader non-Christian society.
"Therefore, as we have opportunity, let us do good to all, especially to those who are of the household of faith." (Gal. 6:10). While this is secondary, it is nevertheless, the responsibility of the church to 'speak the truth' about the sin of oppression to the whole culture. In light of the apostles' statement in Acts 5:29, "We ought to obey God rather than men," Evans contends that:
"This shows us that whenever a religious or civil ruling body… contradicts what God has said or commanded, we are to disobey its laws…. In addition, when the Government fails to fulfill its divine responsibility of promoting justice (Rom. 13:1-5), then Christians have the right and responsibility to resist, as long as such resistance is within Christian behavior." Understanding this has been at the heart of movements throughout history to work for justice and equality. As we face the social challenges of our day, we need to engage in peaceful and productive social actions that help us to create a society where there is indeed liberty and justice for all!