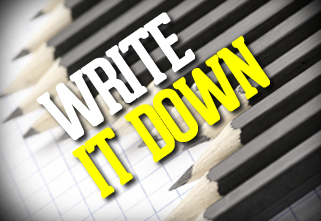 Young leaders consistently ask me: "What's one practical piece of advice for becoming/being a leader who gets things done?" A leader that is trustworthy and reliable. The kind of leader when you ask them to get something done, you have complete confidence that it will happen.
My answer is always the same: Write It Down. Always. What do I mean?
1. Never show up to a meeting without a pen and a notebook.
My preference is a Sharpie and a moleskin notebook. But it doesn't matter whether it's a legal pad or a Red Big Chief pencil or your iPhone or laptop.
ALWAYS show up to a meeting ready to record thoughts, ideas, takeaways, and action items. I tell my team this all the time, whether we are having a group meeting or individual meetings.
2. Carry a pen and notebook with you wherever you go.
If you have a thought, write it down. Remember a task that needs to be completed while in your office, capture it in an e-mail or in a running to do list on your desktop or in Evernote.
In the car?…capture it on your iPhone audio memo or on a dictation machine. Great ideas seem to always hit us at random times. But always make sure it is captured somewhere. Always.