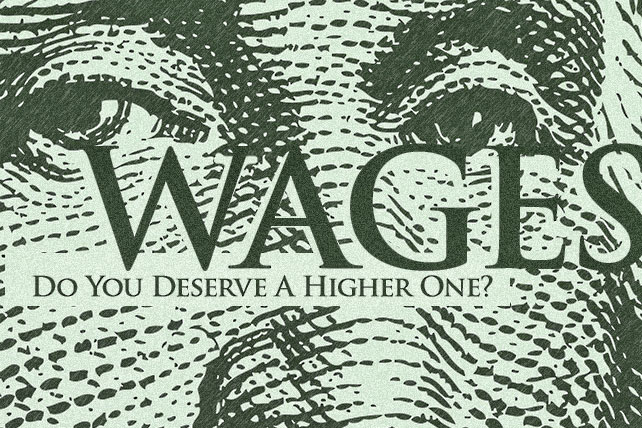 I've met a considerable number of church staff that have told me they think they should be paid more for their work.
Quite often, I'm inclined to agree with them, but the way some go about asking for a higher wage is closer to "demanding" a higher wage, like some in the fast food union are pushing for substantial wage increases. There's a huge, massive difference in the work of a fast food cashier compared to the demands of vocational ministry work, so I'm not making a comparison to the type of work, but rather the way to talk about wage that isn't centered around a dollar amount—but, instead, a value proposition.
Someone needs to tell those fast food workers that they may indeed be worth more than minimum wage, but that there are jobs that pay more than fast food chains. It's not the industry that needs to change, it's the person's job that needs to change!
Conversely, there are those in churches that don't know how to ask for a wage increase, or worse, assume that because it's "ministry work" that they are somehow exempt from 1 Timothy 5:18.
For the Scripture says, "You shall not muzzle the ox while he is threshing," and, "The laborer is worthy of his wages" (1 Timothy 5:18—NASB).
If a laborer is worthy, then that laborer is worthy of the going rate, not a discounted rate.
My personal experience with full-time vocational work was that it was harder and more demanding and required more hours than secular employment; if anything, church staff should be paid more given these realities.
1. "You're working for God, so the pay is going to be lower so that we can be 'good stewards.'"
Good stewardship has less to do with how much money is saved and far more to do with how much money isn't wasted. Investing in people who are investing in Kingdom work is great stewardship.
If this is the stated position of your church leadership, you've got the same choices that nonvocational employees have: stay or leave. Change, of course, is always hard. Prayer and peace from the Lord is the best answer here, but 1 Timothy 5:18 really does apply to you.
2. "I'm paid below industry rates."
Possibly. There are two schools of thought on this: What do other churches pay for a similar role, and what do secular organizations pay for a similar role (or as similar as possible).
My friends at Leadership Network put out a large church salary survey every other year, and it's been expanded to cover a much broader variety of roles. The most recent survey is from 2012. Click here to get it.
The default, leading job tool today is LinkedIn. If you're not there, you're not online from a job standpoint. They offer a way to search for jobs based on skill, location, certifications, etc. that help find what employers are paying (a premium feature on LinkedIn), so you can know how to price yourself in your market. You can sign up for 30 days of free premium membership, so it doesn't cost you anything up front.
Finally, if you're really interested in looking for a new job at another church, my friend William Vanderbloemen and his team offer world-class job search in the church space.