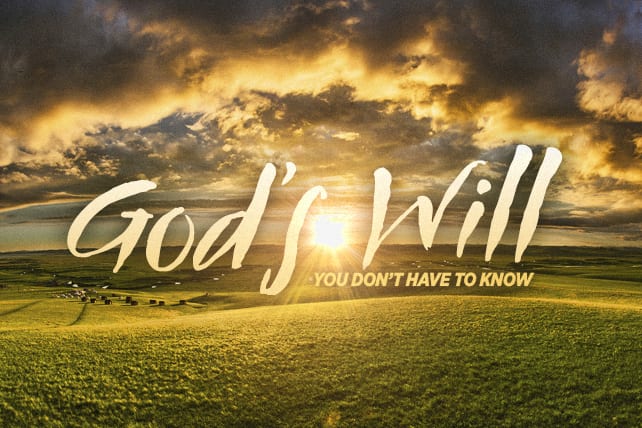 You don't have to know God's will if you are confident in God's word.
If that raises objections, trust me, I understand. Like you, I have significant questions that I don't have answers for. I have personal quandaries, parenting quandaries, ministry quandaries, financial quandaries, etc. Some are massively important and I'm not sure what to do. This can tempt me to fear. I've prayed about these things, some for quite a while. Clarity has not yet come.
But over the decades I've followed him, Jesus has made something very clear to me in the Scriptures, the lives of eminent saints and my own stumbling experience: Living in the will of God is more about knowing and trusting his specific promises than receiving specific direction (Hebrews 11:8). It's more about resting in his sovereignty than wrestling with my ambiguity (Psalm 131:1–2).
I've learned and continue to learn that embracing God's will for me largely consists in transferring my confidence from my own minuscule capacity to understand what's going on and why to God's omniscient and completely wise understanding (Proverbs 3:5–6).
Our Felt Need Is Often Not Our Fundamental Need
As the result of the fall, we all come into the world wildly and irrationally over-confident in ourselves. When God redeems us in Christ, he enrolls us in a discipleship program uniquely tailored to the purposes he has for each of us. He knows that for us to live according to his will, our fundamental need is a significant loss of self-confidence and a significant gain in God-confidence.
But this is usually not our felt need. The need we typically feel is to know specifically what we're supposed to do, where we're supposed to go, how our needs will be provided or why the terrible thing happened.
What we're seeking for and hope to find in those answers are certainty and security—peace. But due to our manifold limitations on every level, the answers we think we want would rarely provide us the peace we seek. God knows his explanations would not even make sense to us since we lack the capacities to comprehend the complexity of the equation. That's why Hudson Taylor counsels us to…