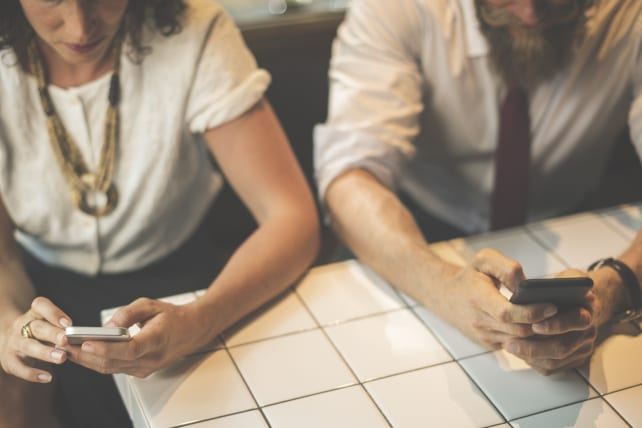 Life seems busier than ever. The pace of modern society drains us of vitality, creativity and focus. You've heard the adage, "If the devil can't make you bad, he'll just keep you busy."  A mentor once told me, "Busyness destroys relationships." Most of us are overly busy and many of us don't know how to fix it.
One writer noted, "The opposite of busy in today's world is sustained, focused attention. It is deep engagement in activities that really matter to us, or in conversations with those we care about."[i] How do we define the right activities that really matter to us? What are the key conversations we should pursue with "those we care about?"
The Right Kind of Busy
Here is some inspired advice from the Apostle Paul: "Continue steadfastly in prayer, being watchful in it with thanksgiving" (Colossians 4:2). The final section of Paul's letter to the Colossian believers is marked by an encouragement that they should be faithful in prayer. The original meaning of this phrase "continue steadfastly" is literally to "busy oneself with or be busily engaged in" prayer. It speaks of deep devotion and persistence. This is the idea of being diligently occupied with prayer.[ii]
This is the best kind of busy. Are you busy with prayer? Does it occupy a significant part of your schedule, your focus, your thoughts? Is it naturally infused in all parts of your life? According to Paul, this is an activity that really matters. This is the key conversation we should pursue with the One we care about; the One who ultimately cares about us.
Charles Spurgeon noted, "If you are very busy, think and pray all the more, or your work will wear and weary you, and drag you away from God. For your work's sake, break away from it, and give the soul a breathing time. Get a holy subject and keep to it till you have drawn somewhat from it to feed your soul upon, and then you will do your lifework with less fatigue because you will have more strength to spend upon it." [iii]
The Best Kind of Alertness
Paul explains the kind of prayer that we should embrace when he writes, "being watchful in it." Other translations say, "keep awake, be on the alert." This idea is taken from the imagery of guard duty. As one commentator states, "At the very least the sense of an impending threat requiring constant alertness is retained, and prayer functions as the vital channel of communication with the commander in chief." [iv]
Alert to Attack – We live in the environment of spiritual war. Ephesians 6:10-20 warns us of the nature of our battle and calls us to stand in the power of the armor of God. The nature of the battle is clear: "For we do not wrestle against flesh and blood, but against the rulers, against the authorities, against the cosmic powers over this present darkness, against the spiritual forces of evil in the heavenly places" (Ephesians 6:12). In light of this serious contest we are to pray: "…praying at all times in the Spirit, with all prayer and supplication. To that end, keep alert with all perseverance, making supplication for all the saints" (Ephesians 6:18). Peter issues a similar warning: "Be sober-minded; be watchful. Your adversary the devil prowls around like a roaring lion, seeking someone to devour" (1 Peter 5:8).
Alert to Apathy – Because we pray with the attitude of one on guard duty, we cannot afford apathy, sleepiness or lethargy. In a crucial moment in his journey toward the cross, Jesus called His inner circle of Peter, James and John to join Him in the garden and to "watch and pray." They dozed off more than once. They had done the same thing when Jesus called them up to the mountain for a previous prayer meeting (Luke 9:28-36). As I wrote in my book PRAYzing! (CLICK HERE), "God is not the author of boredom, especially when we are talking with Him." When are busy with prayer we can be fully engaged and awake through "Scripture-fed, Spirit-led, worship-based" prayer.
Alert With Anticipation – As disciples of Jesus, we are called to live in eager anticipation of His return and toward our accountability in eternity. First Peter 4:7 states, "The end of all things is near. Therefore be alert and of sober mind so that you may pray" (NIV). Because life is short, eternity is long and the gospel matters, we must busy ourselves with prayer.
The Best Kind of Attitude
In Colossians 4:2 Paul directs us to the proper attitude in prayer when he says that we should pray "with thanksgiving." As I often state, "Discouragement is a temporary loss of perspective." Thanksgiving counteracts discouragement, neutralizes negativity and fuels hope. A thankful heart compels us to be busy in prayer because our hearts are confident in a personal, prayer-answering God.
So get busy—not with trivial matters, not just with more tasks, not just with Christian service. Get busy in prayer, both in extended moments of focus and in the course of the day—as naturally as breathing.
A.J. Gordon said, "You can do more than pray after you have prayed; but you can never do more than pray until you have prayed." I've always been encouraged to stay busy in prayer by the story of two elders:
Two elders' wives sat mending their husbands' pants. One of them said to the other, "Poor John, he is so discouraged by his church work. Just the other day, he said that he was considering resigning. It seems like nothing ever goes right for him." The other wife replied, "That's too bad. My husband was saying exactly the opposite. He's been feeling so inspired lately, it seems like he's closer to the Lord than ever." A heavy silence filled the room as the women continued mending the pants—one the seat and the other the knees.
God give us grace and wisdom to pursue the best kind of busy.
Copyright © 2017 Daniel Henderson. All rights reserved.
[i]Tony Crabbe, Busy: How to Thrive in a World of Too Much.
[ii] Dunn, J. D. G. (1996). The Epistles to the Colossians and to Philemon: a commentary on the Greek text (pp. 261–262). Grand Rapids, MI; Carlisle: William B. Eerdmans Publishing; Paternoster Press.
[iii] Charles Spurgeon, Flowers from a Puritan's Garden.
[iv] Dunn, J. D. G. (1996). The Epistles to the Colossians and to Philemon: a commentary on the Greek text (p. 262). Grand Rapids, MI; Carlisle: William B. Eerdmans Publishing; Paternoster Press.
This article originally appeared here.