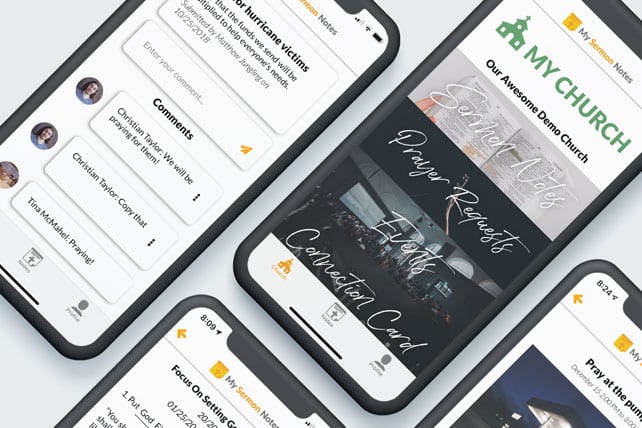 As church leaders, we are constantly searching for the most effective way to disciple our congregation. Discipleship is at the core of everything the church does. How do church leaders utilize technology to set church memb"My Sermon Notes" Makes Note-taking Digitalers up for success and encourage them to dive deeper into the Word? It's no secret that taking notes is a practical and simple way to absorb content and stay tuned in. When it comes to fill-in-the-blank notes, there are a few reasons to consider offering them. Fill-in-the-blank sermon notes help your congregation stay engaged.
Some members will take sermon notes on their own, but some members may not take notes unless they are encouraged to do so. Offering digital fill-in-the-blank notes gives your congregation an easy way to get involved while giving them a chance to take additional notes if they choose. Actively taking fill-in-the-blank notes is a way to keep your brain listening and ready to hear the next point.
When your congregation is fully tuned into your sermon, they will have a greater chance of remembering it as they go about their week. Not only that, recalling the message is a critical step in discipleship because it allows members of your congregation to apply it to their daily lives.
Digital fill-in-the-blank sermon notes create the ultimate note archive.
When someone is thinking about a sermon you preached a few months back, they can simply pull up their sermon notes and reflect on it. This becomes most practical when offering a digital solution where users can search for past sermon notes and find them instantly.
Digital fill-in-the-blank sermon notes also create an archive for church members watching replays of old sermons. Now, they can follow along and take notes from the comfort of their home – even for sermons that are months old.
Sermon Notes Are Cool Again
It may seem like note taking is a dead practice, but that doesn't have to be the reality. With smartphone use becoming the new norm in church services, digital note taking is trending. Congregants are turning to the Bible app on their phone to follow along with the sermon, and digital fill-in-the-blank notes would enhance their experience.
Whether it's through a church app like My Sermon Notes or a fillable PDF file, there are many options for digital fill-in-the-blank notes. Solutions like My Sermon Notes also generate a downloadable PDF file for those who prefer to take notes on paper.
Digital fill-in-the-blank sermon notes unlock further engagement
When you encourage church members to download an app to take weekly fill-in-the-blank notes, users are getting used to opening your church app regularly. This unlocks many possibilities for further engagement. These same users may be inclined to give on the app or sign up for events during the announcements portion of your service.
Since church members have already downloaded your engagement platform to take notes, they automatically have access to other features you may offer, such as push notification announcements or interactive prayer requests.
If you're searching for a digital solution, the My Sermon Notes app offers interactive fill-in-the-blank notes that are cloud-synced between devices. My Sermon Notes also has a fully customizable Church hub with a connection card, interactive prayer requests, push notification announcements, and more. It's a simple way to get your church members involved in a powerful engagement platform.