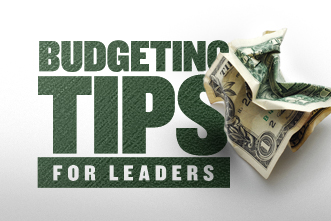 We're in the middle of our budgeting season. And whether it's been a good year or tough year financially, it's so important that you have solid stewardship practices in place. Here are a few of ours.
1) Make sure you put missions first. It seems disingenuous to me to ask people to tithe if you aren't tithing to missions as a church. I honestly believe God will bless us in proportion to how we're giving to missions. It's the one budget category that we always want to be over!
2) Don't overestimate your income. If you do, you'll feel the pressure each week. Our YTD giving is up 40% in 2010, but we won't budget for a 40% increase next year. It's not a lack of faith. We'll budget a 10% increase, hoping we have a 40% increase, but it'll force us to budget the expense side better!
3) Your greatest resource is your people. No one goes into ministry to "get rich quick." But I also think that staff shouldn't be underpaid. There is obviously lots of tension in this area. We spend less than 40% of our overall budget on staff. And I'd honestly like to be closer to 33%. Here's one rule of thumb: don't hire so many staff that you can't pay them all what they are worth. I'd rather have fewer staff that are well paid than lots of staff that are poorly paid.
4) Don't let your budget determine your vision. Let your vision determine your budget. This doesn't mean you budget unobtainable income numbers, but it does mean that you put money into those ministries that have the greatest evangelistic impact. Spend less on low-return ministries and more on high-return ministries.
5) One mechanism that has helped us immeasurably is something we call our wish list. It's really a faith list. These are ministries, projects, visions we need money for, but we don't put them into our regular budget. We believe that God will provide above and beyond our budget to help make these things happen. Our launches, for example, are on our wish list. We believe God will provide the $100,000 to make it happen if He's in it. God always makes provision when a vision is from Him!