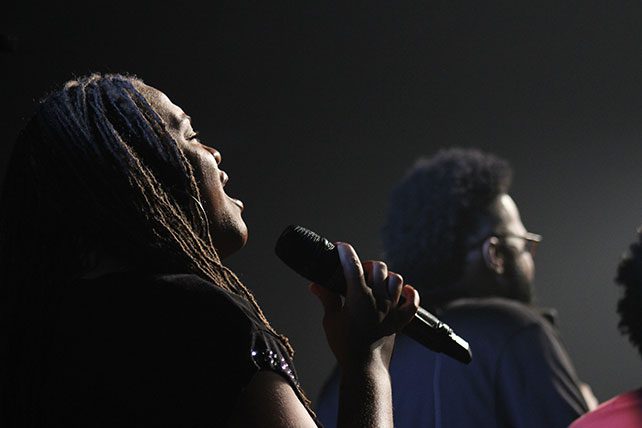 Most worship team vocal parts, like rhythm arrangements, are developed organically (with a little help from the original recording). I've been asked several times about how to develop great vocal arrangements. For me, it's all about creating a beginning, a middle and end to a song, which then helps it to blossom all the way to the final note. The tendency for some is to have everyone jump-in, find a note, and sing everywhere. But there's a better way to create great worship vocals.
The following are 10 tips on avoiding the trap of overcrowding your vocal arrangements. I have included both technical and musical hints to give a song a place to start, to develop and grow, and to become an even greater tool to help lead the congregation on the worship journey.
Great Worship Vocals
1. Confidence.
This is so important because a vocalist is a high-profile position on the worship team. They are the most visible people on stage, next to the worship leader. An individual's confidence will set the congregation at ease as they help lead the singing. Confidence in one's part, and comfort with one's self, brings about positive and confident body language for the singer, which means great worship vocals.
2. Find and stay on your part.
Tenors usually gravitate toward the harmony right above the melody (following the major-third part of the chord progression); altos usually gravitate toward the harmony part above the tenor (following the fifth-note of the chord progression). Sometimes the melody will require the tenor and alto to "flip" parts, where the alto takes the major-third above the melody and the tenor takes the fifth, this time below the melody. For great worship vocals good harmony singers will be able to "flip" parts when needed. Avoid absolute parallel singing—it leads to an occasional gospel seventh and sixth, which may not be desirable for modern rock-styles of worship.
3. Unison, two-part and three-part harmony.
Start songs with either a solo lead vocal or a unison group vocal to establish the melody for the congregation. Split off into either two- or three-part harmony in the chorus to create a bigger sound. A harmony part (tenor: third above melody) will make the second verse stand up a little more than the first verse, but leaves somewhere for the song to progress into chorus number two. Using this layering technique will help create differences between sections and will build musical interest. Some modern rock styles require less vocal harmony, so a simple harmony (third) above the melody in each chorus may be all that's necessary.