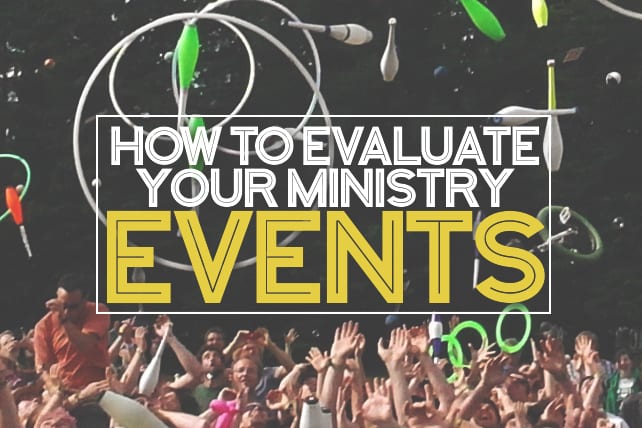 At our church, we have just completed two large events with a couple more staring us down. One of the things I try to do after each event is to evaluate the event's effectiveness and my and my team's competence. I realize that for each church this may look different, but I also realize that we sometimes need a starting point to get us going.
I break those questions down into three categories. People. Church. Me.
People
Did the right people come?
Who was missing that should have been at this event?
Who came that I didn't expect to come?
Where were their opportunities for God to move in the lives of our kids?
Did we create memories that will last a lifetime?
Church
Did this event help build the church?
Did this event point people beyond their own need?
Did we preach Christ Crucified?
Did we as a ministry represent the values and vision of the church? Or did we do our own thing?
Was the church fully aware of what took place?
Me
Did I do what only I could have done at this event?
What did I do that someone else can do next time?
Did my team learn something from this event?
Did I grow in my dependence on Christ through this event?
It's very easy to measure the effectiveness of what we do by how many people came or how much money we earned. Both are valid and helpful, but not ultimate. We are a church, not a Chic-fil-a. Our aim is to primarily pastor and love people, not to be a CEOs. We are more interested in helping those God has brought into our care to maintain a long obedience in the same direction. Large events to the extent they build the church and deepen our dependence on God are helpful. To the extent they are a spectacle, they are unhelpful. Let us by God's grace create events that drive us deeper into God's heart for our good and His glory.
This article originally appeared here.